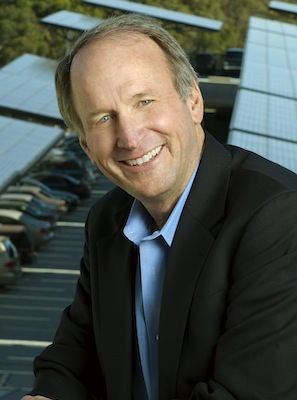 "An environmental pioneer who surfs a long green wave."—Los Angeles Times
Byron Washom is UC San Diego's Director of Strategic Energy Initiatives and is responsible for energy management policy to achieve the campus' goals for quantum improvements in energy management and Greenhouse Gas reductions. Prior to UCSD, Mr. Washom was the CEO for twenty years of a due diligence firm that specialized in CleanTech, and he served as Sr. International Advisor to the World Bank and DOE.
He is a four time Rockefeller Foundation Grantee and a former Heinz Endowment Grantee for early commercialization of CleanTech into developing countries. Mr. Washom was also Founder and President of Advanco Corp which in 1984 set the long-standing world records for solar electric conversion efficiency at 29.4% and subsequently achieved an IR100 Award.
He was the 2008 Recipient of UCSD's Citizen of the Year Award for Sustainability, and he was a Visiting Faculty Member at the Rady School of Management while teaching the graduate level course, The Business of Renewable Energy. Fast Company magazine named him to their June cover story, "100 Most Creative Persons in Business, 2010."
He is also the advisor to the Maui Electric Vehicle Alliance (Maui EVA) project, funded by the Department of Energy, led by UHMC, and co-partnered with the State of Hawaii Energy Office and UC San Diego.
Byron was raised on Midway Atoll as well as Oahu and is a Punahou '67 graduate.