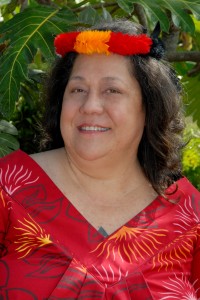 Hökülani Holt-Padilla has been the Kumu Hula for Pä'ü O Hi'iaka for over 35 years. She has devoted her professional and personal time to many aspects of Hawaiian culture throughout the islands. Hökülani was a founding member, a parent, and a Director of Pünana Leo O Maui Hawaiian Language Preschool. She was the first Maui Site Coordinator for Nä Pua No'eau, The Center for Gifted and Talented Native Hawaiian Children, she was the Culture and Education Manager for the Kaho'olawe Island Reserve Commission and continues to be a lecturer at the Maui Community College. Hökülani currently works at the Maui Arts & Cultural Center as their Cultural Programs Director.
Hökülani Holt-Padilla has participated in numerous Boards and public service organizations such as Kauahea Inc, Läläkea Foundation, 'Ïlio'ulaokalani, Protect Kaho'olawe 'Ohana, Maui County Street Naming Commission and the County Commission on Culture and the Arts.
Hökülani continues to give tirelessly to her community and is tremendously proud to be from Maui and to be Hawaiian.