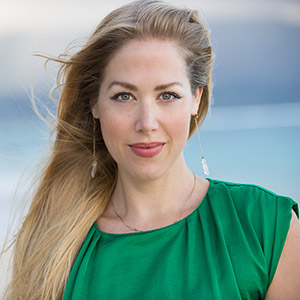 Emma White is the Speaker Liaison for TEDxMaui. Of all members of the TEDxMaui team, she is the one who works closest with our presenters in preparation for their big moments on our stage. She's also led the curation process, which is a collaboration of the full TEDxMaui team and advisory board. In her other life, Emma is an English Professor at the University of Hawaii Maui College. She's a recovering attorney and lifelong activist.
We asked her a few questions to help our readers understand more about the curation process. 
Q: What does this kind of event do for the community?
I've attended TEDxMaui in the audience at both 2012 and 2013, and it's one of the most rewarding events each year. Time and money can always get in the way, but I prioritize attending because it enriches my life so much. I come home with new friends and new solutions for my work, personal and community life. In fact, some of my best friends and most important career connections were forged at TEDxMaui.
Having been raised in Hawaii, I've heard the all-too-common refrain that we lack intellectual and social events. While I don't always agree, my students say it too. Being part of the TEDxMaui team is my answer to them. TEDxMaui is an incubator for new ideas and new connections that we can then apply into our daily lives.
This year, we worked hard to ensure that fifty students will be attending TEDxMaui on scholarship provided by the generous folks at Old Lahaina Lu'au. Numerous speakers are extending their stay on Maui to devote their skills and energy here. Quite simply, this event is grassroots community-building in action, and its impact is wide.
Q: What were the criteria for choosing the TEDxMaui speakers?
A: While the presenters cover a brilliant rainbow of topics, they all have an idea that can improve our lives. Also, we believe that the speakers should somehow relate to Hawaii. For example, Champion freediver and spearfisher Kimi Werner graduated from a Maui High. She's got a fascinating (and shark-filled) story to tell. Maya Soetoro-Ng grew up alongside her brother, President Barack Obama, on O'ahu. She's woven some of the lessons she's learned from our diverse community into her groundbreaking peacebuilding work with Kerrie Urosevich. The primary dancers of Adaptations Dance Theater have danced in some of the world's most prestigious dance companies, such as Alvin Ailey and Ballet West, and returned to Maui to create in this fertile environment. Edward-Readicker-Henderson travels the globe as a National Geographic Traveler writer, but discovered his big idea right here in the Haleakala crater. I'm also thrilled to experience Hawaiian music legend and kumu hula Robert Cazimero perform a set filled with surprises just for us.
Q: How many speakers are from Hawaii?
Over three quarters of our speakers are from Hawaii. This year, we're shining a light on people like Svetlana Berdygina at NASA and Maui's Institute for Astronomy, who is at the global forefront searching for extraterrestrial life, and Daniel Anthony, who is revolutionizing the way we eat. Hawaii is home to cutting-edge ideas, such as Brad Willcox's work expanding lifespan and Kumu Hina's work on gender diversity. We're thrilled that the Maui community wants to support and learn about the innovation happening in their own backyard, and share it with others across the seas.
We're also flying in speakers who will inspire and engage us in new ways. B.J. Fogg, behavior scientist and one of Fortune's "10 new gurus you should know" will let us in on happiness hacks, something we can all use. "The Mad Scientist of Music," Daedalus, will take time off from his world tour– and his current project making a sound-portrait of emerging culture for UNESCO– to perform a show for us that reignites our sense of wonder.
Q: Were there many locally nominated speakers?
Yes! There was much excitement and support around our community vanguards, such as Rick Rutiz, the founder of Ma Ka Hana Ka 'Ike. People see what an impact he's making and want to learn more. Many folks suggested Sam 'Ohu Gon, Senior Scientist and Cultural Advisor at The Nature Conservancy of Hawai'i, and world-renowned expert on Hawaiian ecology. He's created the talk of a lifetime for us. I also had many requests for wild foods expert Sunny Savage. Her message appeals to a wide variety of people, such as the wild boar hunter, teacher, and teens who recommended her. And then there's big wave pioneer Dave Kalama, I can no longer count how many folks have asked about him. Dave drips with determination. If something can't easily be done – like riding Peahi, or furthering access to watersports for athletes with disabilities, he'll help innovate a way.
Q: What is your favorite TED talk?
I love what Social Psychologist Amy Cuddy's big idea has done for me and my students. In her talk, she shares how body language shapes our perception and body chemistry, and how simple poses can help us become more powerful. My students and I practice these "power poses" and every semester a student writes to tell me how these simple moves have empowered them in life. TED talks are an invitation to taste new ideas. If you like it, you can jump in and research further. TED talks have revolutionized education and further democratized thought. No longer do people have to climb the privileged ivory tower to be part of the conversation. So, of course it's hard to pick a favorite!
Enjoy Amy Cuddy's presentation at TED2012 below: