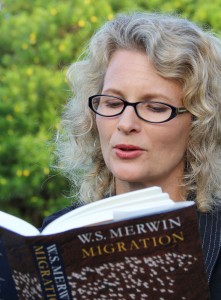 Maui is all a-buzz with TEDxMaui 2012 just over a week away. At the heart of that buzz is the TEDxMaui team of hard-working producers, curators, technical wizards, community partners and sponsors, who are now in the process of bringing each carefully crafted piece of the puzzle together.
We caught up, once again, with Program Director and show curator Karen Bouris, who is currently making all of the final adjustments with the TEDxMaui speakers, who are putting the final touches on their presentations. 
Q: Who are you most excited about?
A: That's an impossible question. I love Paula Fuga. Her voice and presence are so moving to me—and I'm grateful for her dedication to lifting others up and community involvement. W.S. Merwin is one of the best-known and most beloved poets in our lifetime and lives in true alignment with his beliefs. Carolyn Raffensperger is a joyful champion and catalyst for some of the most useful and forward-thinking ideas about the environment right now.
I could go on and on, but as you can see: every single one of our speakers has something magical to offer. They are living a life of purpose and meaning, doing what they're meant to do in the world, and passionate about sharing it with us. And that's a thrill to be around—people in the thick of living their mission.
Q: How did you balance out of town and local speakers?
A: Many of our speakers travel the world, like Susan Casey who can be found in the mountaintops of the Andes or with healers in Brazil. And others are rooted in the land and community, like Art Medeiros, whose is driven in his work with native habitat restoration. Each group has so much to offer; the work in our local communities informs greater, global change.
Q: How can I relate to these speakers?
A: Vincent Mina started out as an accidental farmer and then he organized a collection of farmers, created an annual conference with his wife—and now he is part of dreaming a vision for a Hawaii agricultural plan. So, what will your happy accident or discovery be? Or what will your intentional plan be? We are all local, we are all global.
Q: What do I get with my ticket?
A: First of all, we have sold 85% of the tickets—so buy soon if you want to come. Coffee and continental breakfast available at 7:30 am, Sunday the 22nd, show begins at 9:00am on the dot. We will provide lunch, snacks, and coffee throughout the day. We also have a goodie bag from local sponsors, pen and notepad for notes. What else? Oh, and an audience full of curious people, movers and shakers, thinkers and doers. Did I mention the after party with Paula Fuga? See you there.