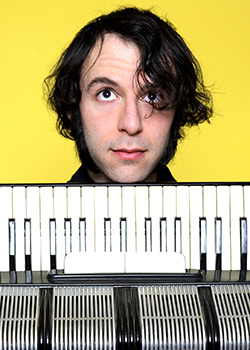 The "mad scientist of music," artist, producer, composer and performer.
Like his mythological namesake, Daedelus is an inventor and a creator of sonic labyrinths, recombining sounds from an eclectic palette into an innovative genre all his own.
Otherwise known as Alfred Darlington, the Los Angeles producer's music runs the gamut of emotion—alternately intense and mellow, exuberant and melancholy, danceable and introspective.
Daedelus has performed more than a thousand shows for audiences on five continents—from Iceland to Istanbul—and is a founding father of the L.A. "Beat Scene," often playing the storied "Low End Theory" club nights.
Each live show is unique, employing Monome controllers and open-source software, which allows for on-the-fly improvisation. The backdrop onstage is Daedelus' "Archimedes," a robotic array of moving mirrors that reacts to and reflects the performance.
Most recently, Daedelus composed the soundtrack for the award-winning video game Nidhogg and was commissioned by UNESCO World Heritage to create a sound portrait of emerging culture.
(Photo by Jessica Miller)