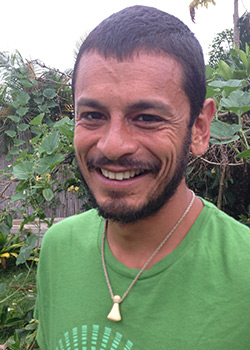 Food sovereignty leader, local farming advocate, driving force behind the movement to bring kalo back to our classrooms, kitchens and local economies.
Daniel Anthony is a keiki o ka 'aina (child of the land), raised on O'ahu's Waianae Coast surrounded by the 'aina (land), kai (sea) and kupuna (elders). As a father, it became his goal to raise his children the same way, so in 2009, he co-founded Mana Ai LLC, a company that produces, distributes and promotes fresh artisan poi and paʻiʻai made from the kalo (taro) plant.
Two years later, Daniel was one of the driving forces behind a statewide movement to successfully pass legislation legalizing the public sale of hand-pounded poi, which is produced in the traditional Hawaiian manner using a wooden board and stone. Driven by a vision of restoring 'aina momona (abundant land) in Hawai'i, he also established Hui Aloha ʻAina Momona, a nonprofit organization that engages the community in a range of cultural activities.
Daniel believes that many of the challenges facing Hawai'i today can be addressed through fostering a relationship with Häloa—the first ancestor of the Hawaiian people and the Hawaiian name for the kalo plant. He will appearon the big screen in I am Häloa, a feature-length documentary film slated for release next year. I am Häloa chronicles the journey of three young Hawaiian women as they gain a better understanding of their culture by making kalo their starch staple for 90 days.