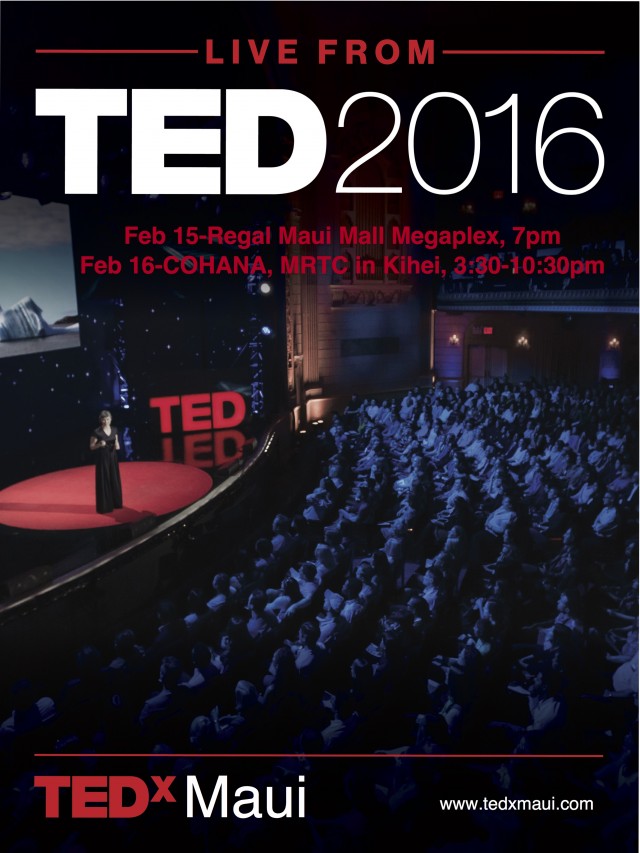 While TED talks provide endless inspiration to billions of people around the globe, nothing quite beats experiencing the legendary conference in its raw and unedited form.
On Monday, February 15th, for the very first time, TED is offering a live broadcast of its opening night at more than 615 theaters worldwide.
This provides in-theater audiences with rare and unprecedented access to TED at barely a fraction of the cost. We are thrilled that the Regal Maui Mall Megaplex in Kahului is one of the participating venues. Now, Maui residents can experience the complete opening night session of TED's annual conference along with the live audience watching from the TED Theater in Canada.
Showtime is at 7pm and tickets can be purchased through the cinema box office directly or online.
To purchase tickets online, click here: http://www.fandango.com/regalmauimallmegaplex12_aaogz/theaterpage?date=2%2f2%2f2016
Speakers on opening night include:
Ishita Katyal, Writer: www.writerstory.com
Astro Teller, Entrepreneur, inventor, author: www.astroteller.net
Riccardo Sabatini, Scientist, entrepreneur: www.about.me/riccardosabatini
AR Rahman, Composer, musician: www.arrahman.com
Shonda Rhimes, Writer and producer: www.theyearofyesbook.com
Dan Pallotta, Charity defender: www.danpallotta.com
Bill T. Jones, Director/choreographer, dancer: www.newyorklivearts.org
To read more about each speaker, click HERE and review Session One: Our Tomorrow.
And then, there is more!
UPDATE 2/1: THIS EVENT IS NOW SOLD OUT
On Tuesday, February 16th TEDxMaui will present TEDxMauiLive, which will be a livestream of the entire second day of TED. Speakers that day include Co-Founder of Airbnb Joe Gebbia, CEO of Uber Travis Kalanick, astronaut Mae Jamison, and television producer and activist Norman Lear. To view the full program click HERE and review all speakers scheduled for Tuesday.
TEDxMauiLive will be held at the COHANA co-working space at the Maui Research and Technology Park in Kihei from 3:30-10:30pm. The event is FREE but space is limited to 40 attendees and you must RSVP via Eventbrite HERE.
We ask that you only RSVP if you are able to attend the entire seven-hour program. We understand that many of you many of you may not be able to make it for the full evening. As it gets closer to the event, depending on availability, we will offer tickets for specific sessions.
Session times are as follows:
Session One: 3:30-5:15pm
Session Two: 5:15-7pm
Session Three: 7-8:45pm
Session Four: 8:45-10:30pm
We are so excited to share the TED experience on Maui with you. We hope to see you at one or both of these events!
Events at a Glance
Monday, February 15th, 7pm, Opening night of TED, Regal Maui Mall Megaplex, 70 E Kaahumanu Ave, Kahului, HI, 96732, Standard Movie Ticket Pricing Applies: $11.60, Adult: $9.10 Senior:  $8.60, Child, Tickets can be purchased online here: http://www.fandango.com/regalmauimallmegaplex12_aaogz/theaterpage?date=2%2f2%2f2016
Tuesday, February 16th, 3:30-10:30pm, Sessions 1-4, Day 2 of TED, COHANA, co-working space. Maui Research  & Technology Center, 590 Lipoa Parkway, Kihei, HI 96753, FREE, NOTE: Space limited to 40 people. To register you must rsvp via EventBrite HERE. Maximum of two tickets per registrant and you must commit to watching the entire program to reserve a seat.