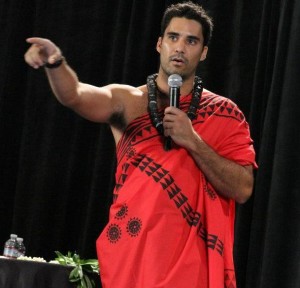 Over the holidays, we connected with TEDxMaui 2012 co-host Kainoa Horcajo, who is such a huge TED Talks fan that he already has a list of his faves at the ready. When we asked him to narrow it down to three, this is what he shared with us, in his own words:
"These three TED Talks are up there on my list of favorites. But, picking just three is like looking through a telescope at the heavens and saying, "thats a nice star". I feel these three reflect an eclectic look at what I find to be empowering, educating, and just downright awesome."
1.  Jill Bolte Taylor – "Stroke of Insight"
"This is one of the most watched TED talks for a reason. Her ability to operate from and describe what happened to her from an analytical-scientific as well as a creative-mystical mindset amazes me. Being someone who constantly sways between those poles, I felt as if I learned something about myself through listening to her experience."

Watch it here:


2. Bunker Roy – "Learning from a Barefoot Movement"
"Simply fantastic. I see so many parallels between the work he is doing with his Barefoot College and what we can do here in Hawaii, albeit with many differences. So much of the thinking that went into the creation and operation of Barefoot College, I believe, is mirrored in traditional Hawaiian knowledge and what I continue to learn from my mentors, elders, and teachers. Where others saw a lack of "formal" education, he saw an opportunity to show the world the value of ancient wisdom. Where others saw the continual need for government intervention and funding, he saw the promise of self and community sovereignty."
Watch it here:


3. Sebastian Wernicke – "Lies, Damned Lies, and Statistics (about TEDTalks)"
"Before I was approached to be a co-host for TEDx Maui alongside Leslie Wilcox, something I'm still in bewilderment over, I was working on submitting a speaker's application that I was sure had no chance of being accepted, considering the amazing people that I watch on ted.com. And especially when I found out that Dr. Elizabeth Lindsey and Aunty Pua were to be speaking (some of my personal idols), I kind of silently thanked the universe that I never got that application in. But, in the process of figuring out how to compose a good TED talk, TEDxMaui co-producer Sara Tekula sent this one by Sebastian to me. I love this one because it reminds us that we don't need to take ourselves too seriously; that in life we must remember to laugh. And it also gave me some information, that come the second TEDxMaui, I'll be more prepared to submit a speaker's application."
Watch it here:
"Now, go watch some TED Talks!"


What are your favorites? Kainoa wants to know! Enter yours in the comments section below.

Say, have you gotten your TEDxMaui tickets yet? What are you waiting for?