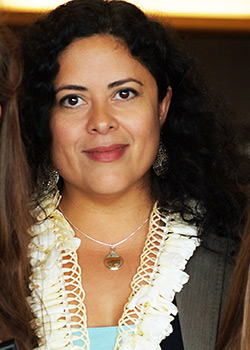 Award-winning peace, multicultural, and international studies educator and children's book author. Co-founder of the community peace training program Ceeds of Peace with Kerrie Urosevich. Campaigner for her brother, President Barack Obama.
She may have addressed the Democratic National Convention—not just once, but twice—and campaigned for her brother, President Barack Obama, but the greatest thrill for Dr. Maya Soetoro-Ng is standing in front of a classroom full of students. Dr. Maya Soetoro-Ng is an assistant professor at the University of Hawai'i College of Education, where she teaches Multicultural Education, Social Studies and Peace Education.
When she's not on campus, Maya works as an educational activist with Our Public School, the nonprofit organization that she co-founded in an effort to connect public schools to their surrounding communities. In addition, with partner Kerrie Urosevich, she trains future peacebuilders through the Ceeds of Peace education program.
An advocate for global competence, Maya draws on her previous experience as an education specialist at the East West Center, where she promoted international educational exchange between Asia and the United States.
She recently authored a picture book called Ladder to the Moon and is currently under contract to write a book about peace education, as well as a young adult novel entitled Yellow Wood.