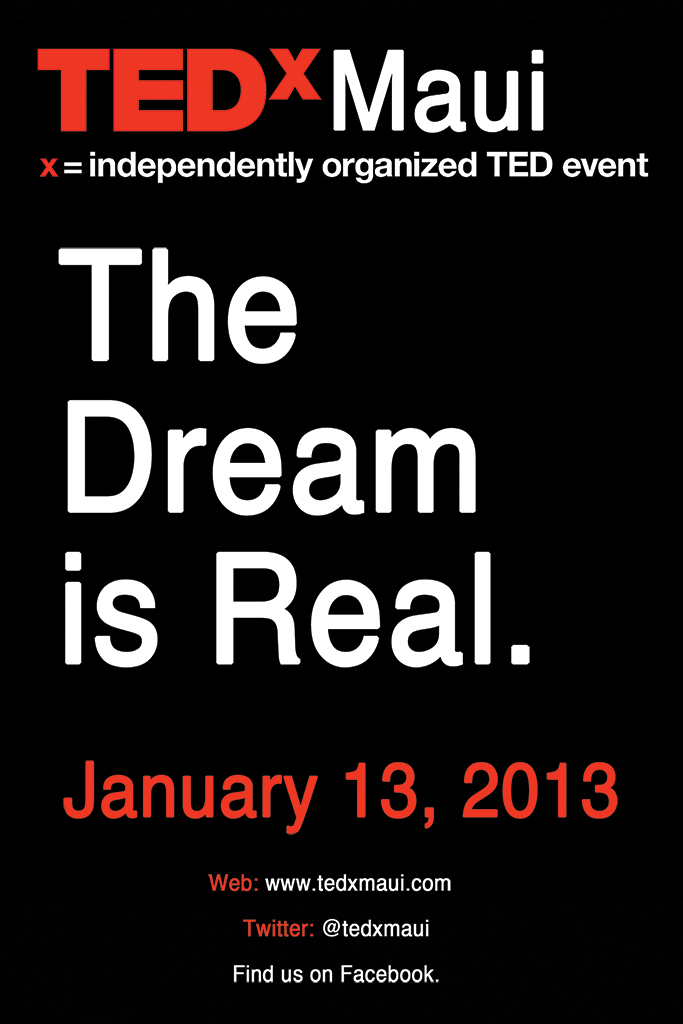 The TEDxMaui organizational team announced today the first five presenters in the lineup of their second annual event. TEDxMaui 2013 takes place on Sunday, January 13th from 9 a.m. to 5:00 p.m. in the MACC's Castle Theater. This independently organized event, licensed by TED, will feature a variety of speakers and entertainers from Hawaii and beyond, drawing inspiration from this year's theme "The Dream is Real". Tickets for the second annual TEDxMaui event are now on sale through the Maui Arts & Cultural Center (MACC) Box Office.
TEDxMaui will feature engaging presentations on diverse topics such as renewable energy, science, education, and the arts. There will also be a variety of musical and artistic performances. A speaker application process was opened to the public earlier this year, and closed in mid-October. While the final 2013 program is currently in careful development, the TEDxMaui team has unveiled five of their featured presenters.
In addition to announcing the first five speakers, the event organizers also identified this year's hosts, Kainoa Horcajo, who returns as host again after helming the inaugurual 2012 event, and Lia Krieg, who brings her talents as a performer and as a teacher to the TEDxMaui stage.
TEDxMaui organizers encourage students, local business owners, entrepreneurs, and any and all open-minded individuals seeking education and inspiration to attend. Tickets are available for purchase through the MACC's Box Office, by calling 808-242-SHOW (7469) or online at www.mauiarts.org. Tuition for the daylong event is $100. Student and elder (over 65) tickets will be $75. Student and elder tickets must be purchased in person at the MACC box office in Kahului as a valid student and age identification is required. TEDxMaui will be limited to 1200 participants with 100 spaces being reserved for students and elders. Tickets will be available on a first come, first serve basis.
TED, which stands for technology, entertainment and design, is a national nonprofit organization devoted to "Ideas Worth Spreading." TED holds an annual conference in Long Beach, California that has featured speakers such as Bill Gates, Jane Goodall, Sir Richard Branson, Steve Jobs, Philippe Starck, Hillary Clinton, Eve Ensler and former UK Prime Minister Gordon Brown. Presentations from the TED conference are made available for free at TED.com. TED talks have been viewed by millions of people worldwide.
In the spirit of TED, TEDxMaui is a locally produced TED-like event. Presentations from TEDxMaui will be uploaded onto the TEDxMaui website and on the TEDx YouTube channel. A few presentations may be selected to appear on the TED.com website. Two of last year's TEDxMaui presentations have enjoyed feature placement on TED.com – one from humanitarian photographer Lisa Kristine, and most recently from Maui's own inventor and scientist Dr. Gary Greenberg.