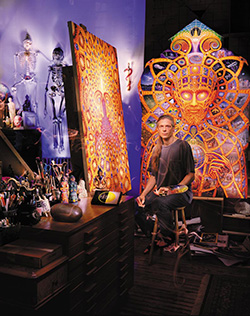 Next up in our TEDxMaui 2013 Speaker Spotlight series is Alex Grey, a visionary artist who is best known for his paintings that present the physical and subtle anatomy of an individual in the context of cosmic, biological and technological evolution.
Stay tuned for more Speaker Spotlights from our amazing TEDxMaui 2013 presenters over the next few weeks.
What drives you to do the work you do?
The evolutionary creative force drive us all. An awareness of impermanence is a great incentive for focus.
Share one personal experience or relevant anecdote that informs your TEDx talk?
The recurring motif of the skeleton has evolved through my artwork. When I was five years old, I portrayed the skeleton through a magical dimension, with a raven, a power animal, on the shoulder, and the essentialized symbol of a gravestone in the distance. At ten years old, I painted the Grim Reaper, an archetype I represented on a mythic level connected with emotions like fear and revulsion. At seventeen, I got an A++ on my anatomy overlay charts in art school, representing the rational scientific realm by accurately mapping the skeletal system. At age 30, I painted "Praying," which included a skeleton in a context of hoiistic awareness, both body and soul. These works evidence the evolution of consciousness from the magical to the mythic to the rational to the trans-rational.
How are you or your topic connected to Maui or Hawaiʻi?
TED is a forum for the evolution of consciousness. I think my topic is universally based.
What are some of your favorite statistics or data points?
Sixty-five percent of all spiritually inclined people who took a single dose of psilocybin in a supportive clinical setting reported having a mystical experience. (Johns Hopkins University Psilocybin & Spirituality)
Cannabis smokers, even heavy and regular users, have a lower rate of lung cancer than people who don't smoke at all. (WebMD, Washington Post)
Atoms are 99.99999% empty space.
A neuroscientist published in Scientific American wrote that "Everything that we experience is a figment of our imagination."
What advice would you give to your younger self–or what advice would your younger self, give to the older you?
At first, I want to tell myself, "It's all going to be o.k." but then, I wouldn't want myself to get slack or rest easy.
The advice I always give myself is "Stay Hungry."
What do the TED Talks mean to you? Do you have a favorite talk that speaks to you?
Delivering a TED talk offers my ideas, philosophy and vision an opportunity to reach an audience that otherwise might not be exposed to my work.
The diversity of voices is the beauty of TED talks.
Paul Stamets is my favorite eco-micologist and all-around genius. Six Ways Mushrooms Can Save the World is my favorite TED talk.

The ideas presented here do not reflect the opinions or beliefs of TEDxMaui.