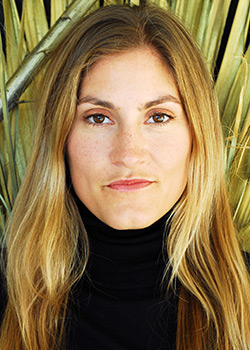 Wild food harvester, expert forager, teacher and adventurer.
A wild food advocate, Sunny Savage's work weaves through the fields of media, education and business. She is the host, writer and associate producer of the internationally renowned wild food adventure cooking TV show, Hot on the Trail, and has been a headlining chef at the Taste of Chicago, the world's largest food festival. She is a co-founder of the Wild Food Summit, an annual gathering that attracts wild "foodies" from across America.
Her belief in the nutritional power and sustainability implications of wild foods has inspired her work in education since 2001. Sunny served as faculty at the White Earth Tribal and Community College, worked with the Center for Food Safety in Washington, DC, and reached thousands of children as an Interpretive Naturalist at Topanga Canyon State Park and Malibu Lagoon State Beach. Other experience includes working at McMurdo Station in Antarctica, with Tibetan refugees at the Dalai Lama's temple in India and founding Savage Designs, an innovative clothing and design company.
Sunny has traveled to every continent and spent three years on a sailboat filming a documentary about the life skills our youth will need to thrive in a quickly changing world. During her time at sea, she stopped off in Costa Rica, where she was a guest presenter at the UN-mandated University for Peace.