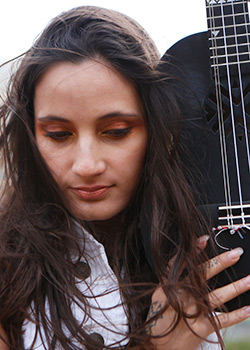 Dazzling and innovative ukulele virtuoso and songwriter
Taimane Gardner picked up her first ukulele at the age of five—and it was love at first strum.
Demonstrating her impressive musical chops as a young street performer in Waikiki, Taimane (which means "diamond" in the Samoan language) was a diamond in the rough until Don Ho discovered her at the age of 13. The budding songstress soon became a featured performer with the legendary Hawaiian crooner, playing alongside him at venues in Las Vegas and Palm Springs. From there her popularity grew, and Taimane has since performed in many parts of the world, dazzling audiences far and wide with her cutting-edge style. Her performances have been described as elegant and energetic, while her stage presence is simultaneously overwhelming and captivating.
In addition to playing her own distinctive versions of well-known pieces, Taimane also writes her own songs and adds fresh material to her sets.
Known for her unique musical vision and innovative ukulele style, Taimane shows the versatility of an instrument that is often viewed as limited or simplistic. She has the ability to blend musical genres—from classical to classic rock to flamenco—without missing a beat.