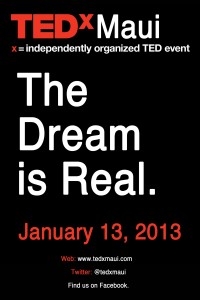 Tickets are now on sale for TEDxMaui 2013: The Dream is Real, available at the Maui Arts & Cultural Center (MACC) Box Office. Scheduled for Sunday January 13th 2013, this daylong event will take place in the MACC's Castle Theater and feature presenters and performers from Maui and beyond who have the passion, curiosity and creativity to change the world with their revolutionary ideas.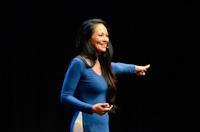 Created in the spirit of TED, TEDxMaui is an independently organized event, licensed by TED. TED, which stands for technology, entertainment and design, is a national nonprofit organization devoted to "Ideas Worth Spreading." TED holds an annual conference in Long Beach, California that has featured speakers such as Bill Gates, Jane Goodall, Sir Richard Branson, Steve Jobs, and Hillary Clinton. Presentations from the TED conference are made available for free at TED.com. TED talks have been viewed by millions of people worldwide.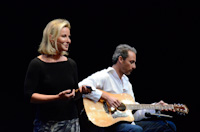 Past presenters at TEDxMaui include Dr. Elizabeth Kapu'uwailani Lindsey, the first female Fellow and Polynesian Explorer for the National Geographic Society; Susan Casey, New York Times bestselling author of The Wave; and W.S. Merwin: Poet Laureate, two-time Pulitzer Prize winner.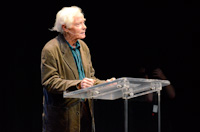 The final list of presenters for TEDxMaui 2013: The Dream is Real will not be unveiled until later this year, however organizers have made tickets available earlier due to last year's sold out event. The presenter selection process is currently underway and anyone interested in applying to speak or nominating a speaker can go to www.tedxmaui.com to fill out the application forms.
To purchase tickets for TEDxMaui 2013: The Dream is Real, contact the MACC's Box Office at 808-242-SHOW (7469), or purchase them online at mauiarts.org. Tuition for the daylong event is $100. Available on a first come, first serve basis, 100 seats have been reserved for students and elders (over 65) at a reduced rate of $75. Student and elder tickets must be purchased in person at the MACC box office in Kahului, as a valid student and age identification is required. Tuition includes breakfast, lunch, and snacks in addition to a full day of presentations from 9am-5pm. A reception will follow from 5-7pm with food and drinks available for purchase.
Those that purchase tickets early can pre-register as an attendee at www.tedxmaui.com to gain access to a private TEDxMaui Facebook group that will allow participants to engage with other attendees prior to the event.
TEDxMaui organizers encourage students, local business owners, entrepreneurs, and any and all open-minded individuals seeking education and inspiration to attend.
For the latest updates, follow TEDxMaui on Twitter at @tedxmaui or join us on our Facebook page.
See videos from last year's event.
For photos of last year's event, visit the TEDxMaui Flickr Photostream.