At todayʻs TEDxMaui 2012 event, not only will the speakers mesmerize and energize the crowd with their presentations, but two Maui artists offer their talents and ideas into the mix.
On the stage, we have Tim Garciaʻs mango wood sculpture series, titled, "Passing through Portals". He also built the TEDxMaui logo for the stage from a fallen Norfolk Pine tree on its way to the landfill.
On the lawn after the stage presentations are complete, TEDxMaui ticket holders will be treated to a private concert from TEDxMaui presenter Paula Fuga, food prepared by Cafe Oʻ Lei, and literally play with the interactive art installation the Colorbox, by Mauiʻs Gabriel Mott.  Hereʻs more on the artists and their work: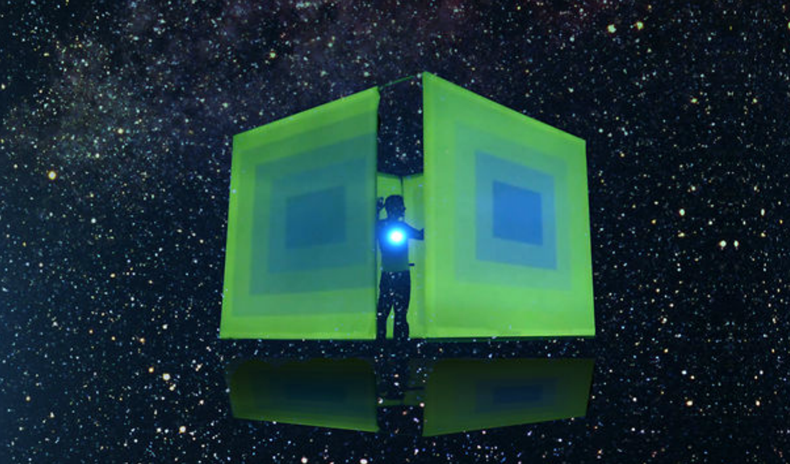 The Colorbox
Gabriel Mott is an artist riding the wave of the digital revolution by exploring light, color and human interaction. His paintings, sculpture, and interactive installations have been shown internationally. Before moving to Maui in 2003, he graduated with honors from UC Berkeley and worked in Silicon Valley with virtual reality. His studies with Maui color master Dick Nelson sparked an epiphany that led him to create the Colorbox, a room of color that responds to body movement. He is a cofounder and the current art director of the SOURCE Interactive Arts Festival.
"We seldom see color as it really is," says Mott. "The Colorbox expands our perception, and gives resonance to the concept that everyone is an artist. When participants step inside this cube of glowing, kaleidoscopic visuals, Colorbox digitally extracts form and figure, revealing pure color that moves with the human body, unmasking hue, chroma and value and creating a body language of color. Participants come face to face with the laws of color and light, and become artists, empowered by their own physical being."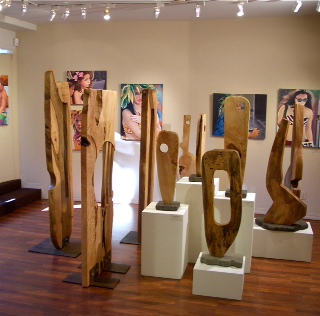 Passing through Portals
Maui artist Tim Garcia has been working in marble, local wood and bronze at his upcountry studio since 1999. 
He teaches sculpture at Hui No'eau Visual Arts Center, and shows his work there and at Viewpoints Gallery, also in Makawao. His installation for TEDxMaui—four large pieces entitled Portals—appropriately coincided with a personal challenge to step outside of his comfort zone.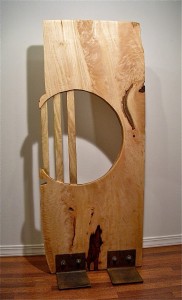 "These portals, or gates, were a breakthrough for me. Cut from large mango slabs, they represent strength, the masculine and feminine—and for me, the need to take chances, to trust the simple beauty of form. I hope this work, symbolizing strength and courage, is a fitting accompaniment for the speakers onstage at TEDxMaui."