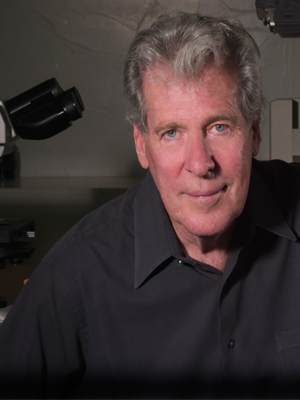 Scientist, artist and inventor, Dr. Gary Greenberg uses his special 3D microscopes to create spectacular landscapes of worlds beyond our everyday perception. Initially a photographer and filmmaker, at the age of 33 he moved from Los Angeles to London to earn a Ph.D. in biomedical research from the University of London. Dr. Greenberg was an Assistant Professor at the University of Southern California during the 1980's. In 1990, he co-founded Edge-3D where he developed high-definition, three-dimensional light microscopes, for which he was issued eighteen US patents. Dr. Greenberg is currently a faculty member at the University of Hawaii Institute for Astronomy in Maui, where he studies moon sand collected during NASA's Apollo missions. Dr. Greenberg's mission is to reveal the secret beauty of the microscopic landscape that makes up our everyday world. Greenberg shows us that the miracles of nature are tangible, and they can be seen directly through the microscope. When we commune with nature, we become conscious of our connection with the universe.
Dr. Greenberg focuses his microscopes on ordinary objects, such as grains of sand, flowers, and food. These everyday objects take on a new reality when magnified hundreds of times, illuminating hidden aspects of nature. He shows us that ordinary objects are truly extraordinary when seen closely. Dr. Greenberg's images of sand make us realize that as we walk along a beach we are strolling upon thousands of years of biological and geological history.
He has authored a number of books including: A Grain of Sand: Nature's Secret Wonder, (2008); A Bug's Eye View of Flowers, (2010); Florotica: Revealing the Sensuality of the Micro World, (2010); and, a children's book, Mary's Magic Microscope, (2011).