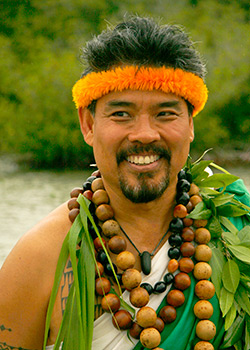 We are honored to have Sam 'Ohu Gon III in our lineup of TEDxMaui 2014 presenters. Sam is the Senior Scientist and Cultural Advisor at The Nature Conservancy of Hawai'i, and world-renowned expert on Hawaiian ecology.
As part of our "Featured Presenter Q &A Series", here's a little insight into Sam's passions and motivations.
What drives you to do the work you do?
Hawaiʻi is amazing in both its ecological diversity and its cultural richness—it is a complete joy to dive deeply into both!
What is one personal experience or relevant anecdote that informs your TEDx talk?
The past not only can inform our future, it must change our future.
How are you or your topic connected to Maui or Hawaiʻi?
My topic is about the deep human past on Maui and across the islands, and how it informs us of how we got to where we are, and what the future can hold.
What advice would you give to your younger self?
Never forget where you came from!
What advice would your younger self give to the older you?
Don't ever choose to slow down, and think sooner about the generation to come.
What do the TED Talks mean to you? Do you have a favorite talk that speaks to you?
TED talks mean sharing those ideas that excite and inspire you more than anything else at the moment. I don't have a favorite talk, it is the huge diversity of topics and styles that I appreciate most.
**
Sam Ohu Gon will be giving a presentation at TEDxMaui 2014, coming up on Sunday, September 28, 2014 at the Maui Arts & Cultural Center. Join us in the audience or become a supporter!