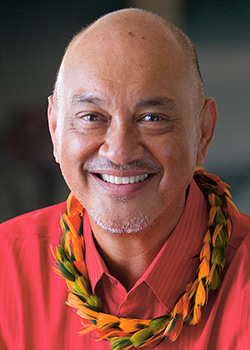 Legendary and award-winning Hawaiian singer, songwriter, pianist, kumu hula and contributor to the Hawaiian cultural renaissance.
Coming of age in the 1970s was a turbulent time, but for Robert Cazimero, it was the time when he discovered himself and his life's purpose: Hawaiian music and the art of hula. While it was not without turbulence, Robert's path became clear and he followed it to where he is today—at the top of his game in his music and the art of hula.
Robert's musical talent was recognized at a young age by his kumu hula (hula teacher), Ma'iki Aiu Lake, and he soon began to learn the art of hula from one of the most respected masters of the dance form during the Hawaiian cultural renaissance.
Known for changing the familiar sound of Hawaiian music, Ma'iki infused Robert with her vision of an all-male halau (hula school). Over the ensuing decades, he has realized Ma'iki's dream again and again, dedicating his energy to the once-vanishing tradition of male hula.
Robert's elegant voice is so distinctive, that when he performs solo on piano (or with his brother Roland as the Brothers Cazimero), people are compelled to listen. During his musical journey, he has contributed to 40 full album projects, many of which are considered classics in the history of Hawaiian music.