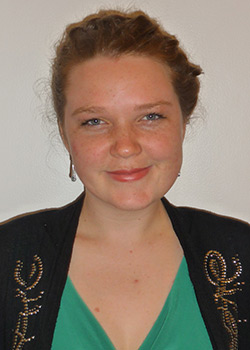 King Kekaulike High School student, TEDxYouth@SeaburyHall speaker, humorist who inspires her peers.
Rosemary Kulhavy-Sutherland (affectionately known as "Rosie") was born and raised on Maui, spending her formative years in the rugged wilderness of the remote Kanaio Coast.
Rosie was homeschooled by her parents and did not attend school until she was 10 years old. She couldn't read until the age of 11, and once she could, she devoured books like food, always hungry for more.
Her passion for the written word is a trait she inherited from her parents, who read aloud to her every night. Rosie's first years of formal education began in the fourth grade at Haleakalä Waldorf School and she is now a senior at King Kekaulike High School.
An active participant in various school clubs, Rosie is a strong presence in her school community and is passionate about helping others through sharing her own experiences. One of her favorite things about being human is that we are all unique and life isn't perfect—and that's okay.
Rosie is keenly focused on her future and strives to create something worthwhile and beautiful during her lifetime.