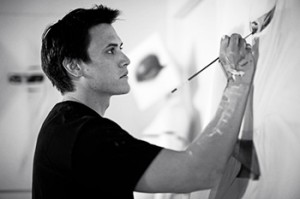 Next up in our TEDxMaui 2013 Speaker Spotlight series, we learn a little more about Kamea Hadar, Lead Director of Pow Wow Hawaii, who is on a mission to publicly engage the broader community in the process and creation of art.
Stay tuned for more Speaker Spotlights from our amazing TEDxMaui 2013 presenters as we get closer to our event on Sunday, January 13.
What drives you to do the work you do?
Many things drive me to do the work that I do, but above all I think it's my natural affinity to art and the love for my home.
I have been drawing and painting ever since I can remember and have always had a natural ability to create art. It was really hard for me to sit in art classes as a kid when all I wanted to do was surf, and I really have to credit my parents for encouraging me to develop my talent. After I got my college degree, I traveled for a few years, worked many different jobs and created very little. I was so used to being pushed by outside elements and other people that without any pressure I had no real drive. In the end, I came full circle and dove right back into creating again. I realized that there was something inside me that needed to create art, to create beauty and to share it with others. I found that I was unhappy if I did not use my talent to its fullest, and this time I was doing it because I made that realization for myself.
The other less selfish reason I do the work I do is the love for my home of Hawai'i and the people here. Although there is an art scene in Hawai'i, there is always room for growth. I have always had a do-it-yourself mentality and the belief that there is nothing that I cannot build. I want to sculpt the types of communities and opportunities in Hawai'i that can benefit artists here on the islands and more importantly our future generations.
Share one personal experience or relevant anecdote that informs your TEDx talk?
One of the greatest moments I had with Pow Wow was during the first one in 2011. We had only one big mural that year and all the rest of the art was on large collaborative canvas pieces that we had built for the event. The plan was to paint on them for the whole week and at the end of the last night black all of them out. Before all the crowds arrived for the final night all the artists had a sit down and everyone started to change their mind about blacking everything out except me. I was the only one who still wanted to kill my piece so we put my canvas front and center and all started to jam on it together. At the end of the night with The Rolling Stones Paint it Black on the speakers we blasted the canvas with black paint. It was a perfect statement that the process of collaborating, of sharing cultures and making new friends from around the world was more important than the finished product hanging on the wall. It was the perfect exclamation point to the first ever Pow Wow Hawaii.
How are you or your topic connected to Maui or Hawaiʻi?
Like I stated earlier, my love for Hawai'i is one of the driving forces in my life and work. To be an artist you do not have to live in New York or Paris or dress all in black or wear a stupid hat. I can wear rubber slippers and still paint something beautiful. Pow Wow Hawaii aims to bring the global spotlight to Hawai'i, and help to turn us from an island in the middle of the Pacific into a global hub. Pow Wow exposes outside artists and cultures from around the world to local artists, and helps those visitors learn about our culture and take that back with them. This exchange can be seen in our murals in Kaka'ako, which not only beautify the community, but start to breathe life into it. The Pow Wow event in February has allowed us to expand and open Lana Lane Studios, a 5,300 square-foot creative space and school, do mural projects throughout the islands that beautify the whole state, and start year-round educational programs. Most of all, our programs help to expose the next generation to a very high level of creativity and show them ways that they can build a future for themselves as creators of art.
What are some of your favorite statistics or data points?
I would say that my favorite stats/data points would be all of Pow Wow's numbers since we started. There has been amazing growth in number of artists, amount of art being created and people touched by what we do. The number of square feet in Lana Lane, the growing class sizes in our art programs, and number of partners and supporters of such programs are all great numbers too.
What advice would you give to your younger self, or what advice would your younger self, give to the older you?
I'm only 28 and in a family full of Ph.D.'s, Hollocaust survivors and war heroes that have been on this earth for almost a century, so most of the time I still feel like a clueless kid. If I were to see myself at any age I would just say to appreciate what you have and not whine so much.
What do the TED Talks mean to you?
To me, TED Talks are amazing gatherings of people who are interested in learning from each other and broadening their horizons. My dad always teases my mom and me about bombarding people we meet with long conversations and tons of questions. I feel that everyone has a story, a passion, and a different take on life.