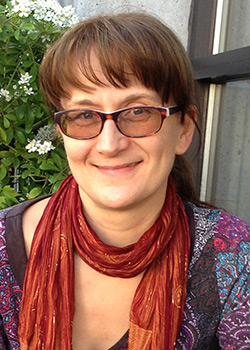 NASA astronomer, researcher of extraterrestrial life, physics professor, discoverer and artist.
Svetlana Berdyugina is an exoplanetary and astrobiology researcher, physics professor, discoverer and artist. Svetlana and her team were the first to see reflected light and a blue color of a planet outside the solar system, a paradigm-exploding discovery in exoplanetary research. While employing quantum effects in various molecules, she pioneered and established several innovative research lines in astrophysics, which led to discoveries of new phenomena. Her breadth, vision and fearless attitude toward research set her on the path to search for signs of life on other planets while investigating colorful bacteria and plants of Hawai'i.
Among her myriad accomplishments, Svetlana is the first and only female physics professor at Freiburg University—which was founded in 1457—and the first female astrophysicist offered a professor chair in Germany. She is also the co-founder of the Colossus telescope, the world's largest telescope capable of detecting extraterrestrial life and civilizations, and a member of the NASA Astrobiology Institute Team at the University of Hawai'i.
Svetlana's creative nature takes over the right side of her brain. She continuously expands her terrestrial and extraterrestrial vision through her colorful paintings and imagines that this fusion of art and science will lead her to find that needle in the haystack—life in the universe.