Speaker Nominations due September 15th, Submissions due October 15th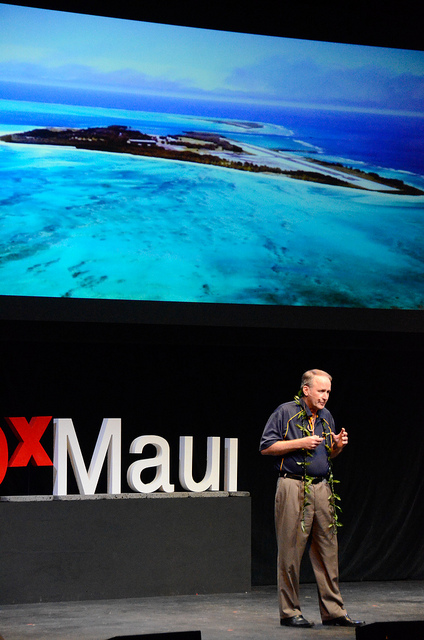 TEDxMaui organizers have announced the deadlines for submitting proposals to present at TEDxMaui 2013: The Dream is Real, scheduled for January 13th 2013 at the Maui Arts & Cultural Center (MACC). All presenters must complete a "Call for Proposals" and be selected by TEDxMaui's team of advisors in order to participate.
NOMINATION DEADLINE:The official deadline to nominate a presenter is September 15th 2012. Nominations are followed up on by the TEDxMaui Advisory Board, and the potential speaker is then encouraged to apply.
DEADLINE HAS PASSED. 
APPLICATION DEADLINE:
The official deadline to apply to speak is October 15th 2012. Speakers do not have to be nominated in order to apply. After the deadline, the TEDxMaui Advsory Board will meet with the TEDxmaui event team to evaluate all applications and take part in a juried selection process. DEADLINE HAS PASSED.
"Every presenter has the potential for the video of their talk to end up on TED.com, dramatically furthering their work and exposing their big idea to a large global audience," explains TEDxMaui founder Katie McMillan. "Because of this opportunity, we ask that applicants take extra time and care to clearly define their proposed talk on our application form. It allows for our team to determine the most impactful presentations amongst what is sure to be a large number of submissions. It is also critical that we receive all applications and nominations by the deadlines as much goes into the preparation of this event."
TEDxMaui 2013 will take place in the MACC's Castle Theater and will feature presenters and performers from Maui and beyond who have the passion, curiosity, and creativity to change the world with their revolutionary ideas. It is a daylong event.
Past presenters at TEDxMaui include Dr. Elizabeth Kapu'uwailani Lindsey, the first female Fellow and Polynesian Explorer for the National Geographic Society; Susan Casey, New York Times bestselling author of The Wave; humanitarian photographer Lisa Kristin; and W.S. Merwin: Poet Laureate, two-time Pulitzer Prize winner.
The final list of presenters for TEDxMaui 2013: The Dream is Real will not be unveiled until November, however organizers have made tickets available earlier due to last year's sold out event. TEDxMaui organizers encourage students, local business owners, entrepreneurs, and any and all open-minded individuals seeking education and inspiration to attend.
To purchase tickets for TEDxMaui 2013: The Dream is Real, contact the MACC's Box Office at 808-242-SHOW (7469) or go to www.mauiarts.org. .
For more information and videos from last year's event, click here.
For the latest updates, follow TEDxMaui on Twitter at @tedxmaui or become a fan on Facebook at www.facebook.com/tedxmaui.
For photos of last year's event, visit the TEDxMaui Flickr Photostream: http://www.flickr.com/photos/tedxmaui/