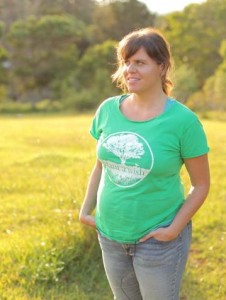 We caught up with TEDxMaui co-producer and production industry veteran Sara Tekula, who has been compiling a skilled team to work backstage at the Maui Arts & Cultural Center to ensure the show quality expected at a TEDx event. Sara is co-founder of the Plant a Wish project and runs Noni Films, a Maui-based production and media consulting company.

1. We hear you are the "behind the scenes" rockstar. What exactly is going on behind the scenes on the day of the event?
Ha! I would hardly call myself a "rockstar", but I am definitely the "woman behind the curtain" (kind of like the "Wizard of Oz"). My feeling is that it's not about me, it's about the speakers gracing our stage, the people in the audience–and the unique exchange that happens at a TED-inspired event.
To make sure that everything is seamless, there are a boatload of technical details that need to come together. We've got a 3-camera video team, a lighting team, a sound team, a stage design team, hosts to work with on direction and scripting, a team involved with projecting the speakers' digital presentations, a social media manager, and a person handling the event's webcast on Livestream.com. Wow.
Altogether it's a team of over 25 of Maui's excellent [professional] production people working backstage, and I'm the conductor of that orchestra, striving towards harmony.
2. What makes this a dream project for you?
I am so honored to be working on TEDxMaui. I've been in the production business since 1999, and love the thrill of a team coming together to make something great out of thin air.
On top of that, I am an enormous TED fan, listen to the talks all the time at home and in my car, and many times have sat at my computer with "chicken skin" – sometimes moved to tears – watching TED's riveting talks. So, to be part of the team bringing TEDx to Maui, is a dream. I attended TEDxBlack Rock City at the Burning Man festival last year (my first-ever live TEDx event), and my vision of what was possible grew to wild proportions.
TEDxMaui is at the intersection of my passions: groundbreaking ideas, great production value, magical community experiences, and remarkable people – it all resonates with me deeply.
3. Do you have any special connections with this year's speakers?
Yes. First, there's Carolyn Raffensperger. I heard her a few years ago guest speaking on one of my favorite podcasts, and instantly knew I wanted to interview her for the Plant a Wish documentary I'm working on with my husband/partner Joe. While we were on tour for the documentary, Carolyn was a gracious host to us in her home state of Iowa–and taught us a great deal during our short visit. So, when Karen Bouris (Program Director), who is also a fan of Carolyn, asked about reaching out to her, my heart did cartwheels. I can't wait for Maui to experience her ideas and passionate commitment to the Earth and its people. Careful, she's contagious.
I also have volunteered with TEDxMaui speakers Dr. Arthur Medeiros and Vincent Mina on their awesome community projects here on Maui and consider them mentors. Outside of TEDxMaui and the media world I work in, I'm a dedicated student of ecology and the human-land connection, and these two men are champions of the two ends of that spectrum: ecosystem restoration and sustainable agriculture. The island needs people like Art and Vincent to ensure a balanced future for all living things in Hawaii.
4. Did you imagine it would be this big–with 20 speakers and an audience of 700 in the Castle Theatre–when you began working on this with your co-producer Katie McMillan a year ago?
Actually, I did. From the very beginning, Katie and I had a clear vision of what we wanted the event to feel like. We wanted it to make a major difference in the lives of the people involved and the atmosphere on Maui. Because Katie was able to obtain a license for a large TEDx event on Maui, we decided to go for it and go big.
I never could have imagined how much of a "labor of love" it has become for everyone involved. The process of being on this team and co-creating the birth of the first-ever TEDx event on Maui has been an enormous learning experience and growth opportunity, not to mention an excellent outlet for my creative energy. It's not just another production; it's an epic journey.
5. What are you most looking forward to?
As a producer/director, there is nothing that compares to the rush of the moment your show goes live. So, just before 9:00am on January 22nd, you can bet I'll be a livewire.
Other than that, I am really looking forward to seeing the TEDx community on Maui grow into what I believe it can become. This is a critical time to share ideas–and we have an exceptionally open and innovative group here on Maui. When we get together, anything is possible.
6. What are your favorite TED talks?
There are so many that I've loved over the years, but one that really touched me this year came from sociologist Brené Brown at TEDxHouston. My educational background is in psychology, and I naturally gravitate to TED talks that are related to the field. It's my small way of staying current with the research.
Her talk – which shares her extensive research on human vulnerability and how it actually makes us stronger – was so moving, so wonderful, that I've listened to it many times since it first posted to TED.com. It also aligns with the theme of this year's event, "The Courage to Dream", and I've heard that Brene has been invited to speak at the big TED2012 event this year! This talk has had major impact.
7. Will the TEDxMaui talks be available online?
Yes! After the curtains close at the end of the day on January 22nd, I'll be taking hard drives filled with footage to my editing bay – to create individual videos of each talk for loading to YouTube. One of the most exciting things for a TEDx speaker is the chance they have to be featured on the main TED website, at Ted.com. That is the equivalent to being published in newspapers and shown on televisions around the globe. The potential is huge for the spreading of ideas, and the videos generated from our event are the key to continuing the TEDxMaui conversation.
We're also webcasting the event live on the day of the event, using the TEDx Livestream account – it will be embedded onto our website at tedxmaui.com/livestream