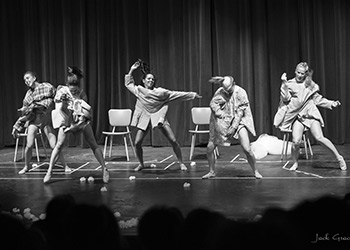 Maui's cutting-edge nonprofit professional contemporary dance company.
Adaptations Dance Theater (ADT) is a nonprofit professional contemporary dance company on Maui that believes in the power of thought-provoking movement to inspire community innovation and youth aspirations. Directed by Hallie Hunt-Armato, Vanessa Cerrito, Nicole Humphrey and Amelia Nelson, ADT strives to sustain the art movement in Hawai'i by making a home for professional, contemporary dancers on Maui, whether trained locally or abroad.
The members of Adaptations Dance Theater come from diverse dance backgrounds, but all share common ground in classical training and a passion for exploring genuine emotions through movement. Its members have previous professional experience with dance companies such as The Foundry, Artship Dance Theater, New Vision Cirque Dance Company and 'Ulalena, and have trained with the companies Alonzo King LINES Ballet, Alvin Ailey American Dance Theater, Pacific Northwest Ballet and Ballet West.
ADT creates honest work that is informed by its classical roots and experiments with bravery, power and truthfulness.
(Photo by Jack Grace)