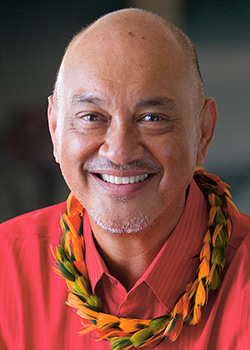 For our next installment of the Featured Presenter Q & A blog series, we spoke with legendary and award-winning Hawaiian singer, songwriter, pianist, kumu hula Robert Cazimero. A significant contributor to the Hawaiian cultural renaissance, Robert is a joy, and we are proud to bring him to the TEDxMaui stage this year.
His answers to our questions are below.
What drives you to do the work you do?
More than anything, it's the responsibility I feel towards my culture and my kupuna, my ancestors, that motivates me in the direction I've been traveling for many years now. I used to believe that I chose this path. However, today I acknowledge it's them and the culture that has chosen me.
What is one personal experience or relevant anecdote that informs your TEDx talk?
I share a story of when I became aware of the talent given me. I was in a recording session and the guys were gonna play back what I had just done. While sitting and listening, I noticed a mirror to my right, on the floor. I couldn't believe the voice I was listening to belonged to the image reflecting back to me from the mirror. A prevalent "aha" moment in my life.
How are you or your topic connected to Maui or Hawaiʻi?
Easy, my life is Hawai'i. Bred by, made for, nurtured on, worked with, inspired by, grateful for. It's something I never take for granted.
What advice would you give to your younger self?
Be confident! Know there's a path set before you. Trust it and follow. Above all things work very hard at not taking yourself too seriously. Life is brief, time is fleeting, eat Oreos with cold, cold milk.
What advice would your younger self give to the older you?
Take time to thank people. Listen to their stories one more time, and one more time after that. Know that forever pleasure there is a price and the price could be more pleasure. Being mean and negative takes too much energy. Silence is golden, and with a smile, the complete understand of how less can be more.
What do the TED Talks mean to you? Do you have a favorite talk that speaks to you?
I have seen a few TED talks but have held back from watching to many ]while preparing for TEDxMaui]. I want my sharing to be me, the simple, complicated, somewhat talented, cautiously honest easily teary, aggressively loyal, always grateful, ME.
***
Robert Cazimero will be giving a presentation at TEDxMaui 2014, coming up on Sunday, September 28, 2014 at the Maui Arts & Cultural Center. Tickets are now on sale with limited seating still available. Join us!