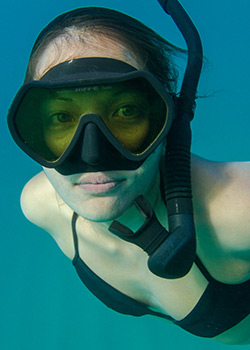 Maui born and raised champion spearfisher and freediver, artist and chef-hunter.
At any given time, there's a good chance you'll find Kimi Werner packing her bags for a new adventure—on land or in the sea. Whether she's mingling with people from different cultures, learning about an area's natural resources or hitching a ride on the dorsal fin of a great white shark, the perennial globetrotter, freediver and spearfisher is always on the move.
Born and raised on Maui, Kimi fostered a deep connection to her island home at a very early age. This intrinsic bond with nature became a guiding force in her life, leading her to follow in her father's footsteps and take up spearfishing and freediving. Renowned for her remarkable ability to hold her breath for more than four minutes to reach depths of over 150 feet, Kimi won every category she entered at the 2008 U.S. National Spearfishing Championships in  the dark waters off Newport, Rhode Island. Today, she continues to inspire others as an ambassador of nature, accomplished chef and professional artist who embodies the heart and soul of simple and sustainable living.
(Photo by Justin Turkowski)