6:00pm
From all of us to all of you! Mahalo for coming on this journey with us! Hope to see you in the audience next year!!
Aloha!
Malika Dudley & the TEDxMaui crew!
Taimane playing at the after party right now 🙂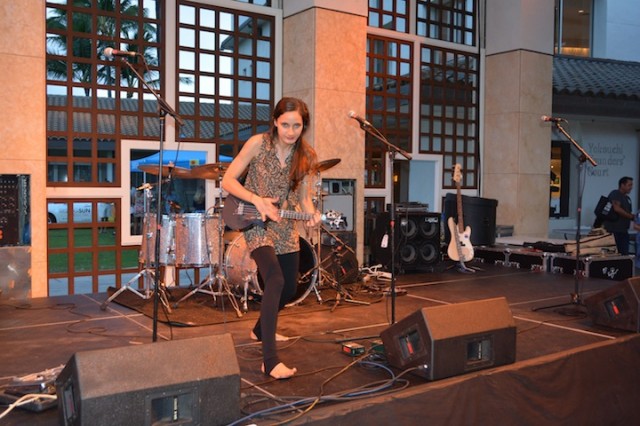 5:30pm
Robert Cazimero getting on stage right now!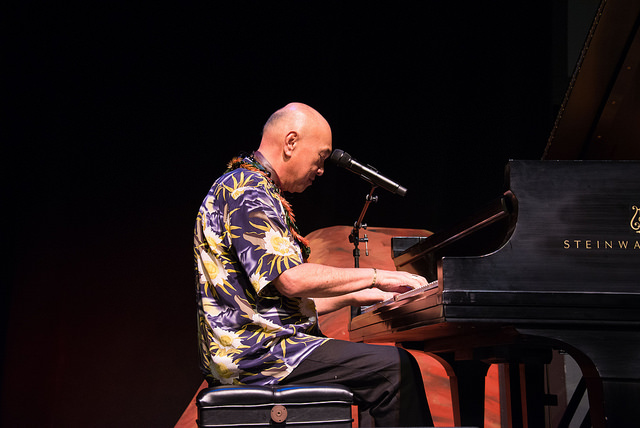 5:05pm
Maya & Kerrie gave examples of so many great tools to use to build peace.
Favorite quotes…
"Every interaction matters."
"Peace-building needs to be fundamental and essential."
"Imagine if we were able to raise all of the 133 million babies raised around the world as peace builders."
"It is possible to shift social norms and make the world more peaceful."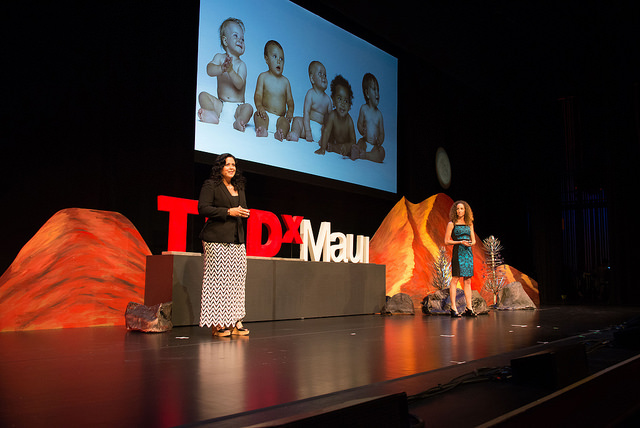 5:00pm
Taimane rehearsing on stage for the "after party"…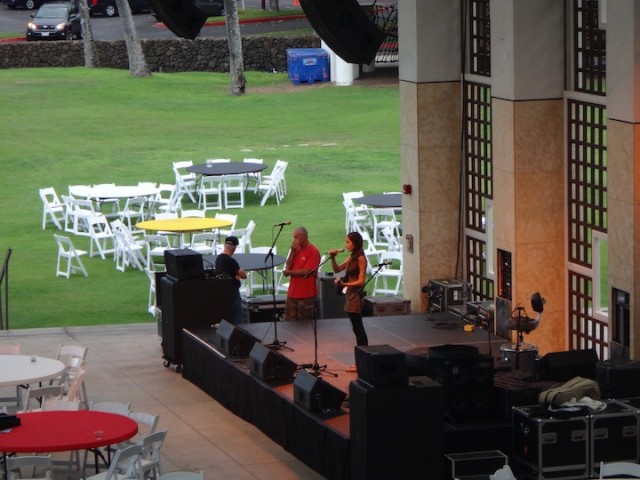 4:53pm
Maya Soetoro-Ng and Dr. Kerrie Urosevich getting their microphones backstage! They are up next!!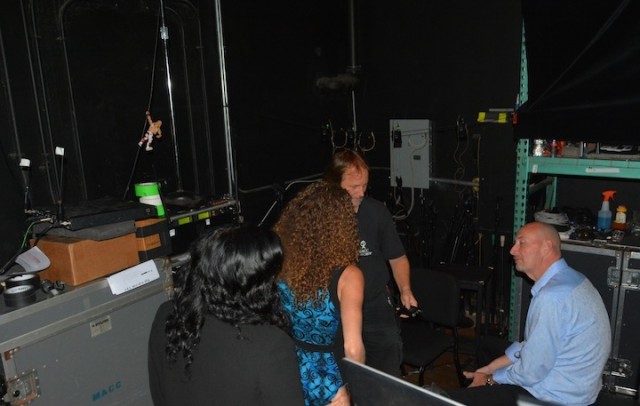 4:45pm
Dave Kalama … "Take it one stroke at a time." Unreal story of survival! Make sure to check out the archived footage once it's posted!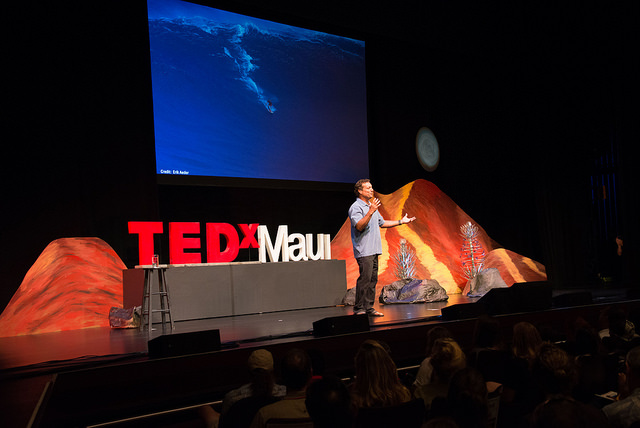 4:35pm
Dave Kalama backstage getting his microphone. He's up next!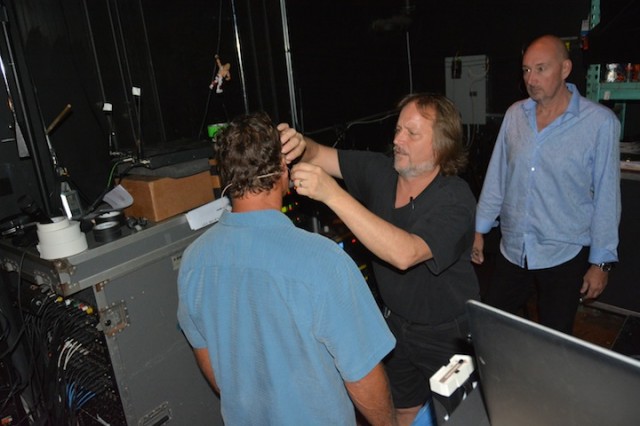 4:30pm
Sunny Savage
Favorite quotes…
"I say it's time we welcome the gift of kiawe."
"Most of these plants are edible. We don't need to keep herbiciding them with Round Up, we can eat them."
"Wild foods have always been a food of the people, for the people."
"Each day, try adding one wild food to what you're already eating. Let us reconnect with our wild relatives."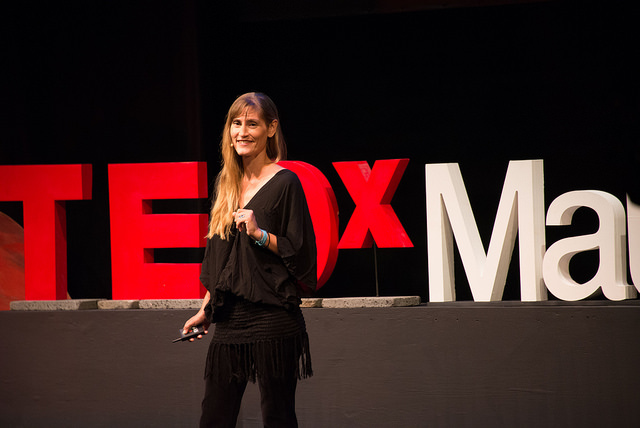 4:15pm
Behind the scenes during the break! Kumu Hina and Robert Cazimero in the dressing room.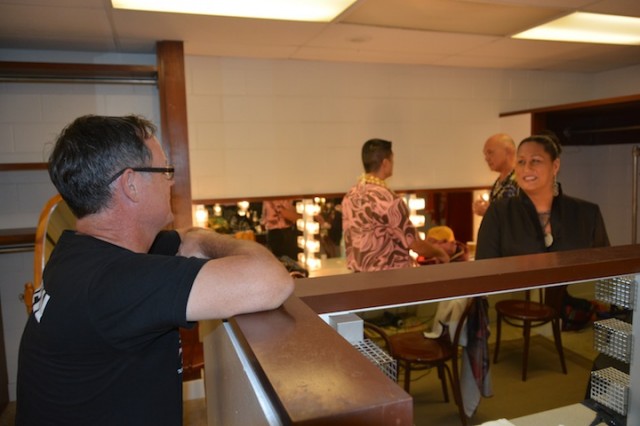 Dr. Svetlana Berdyugina talking with Dr. Kerrie Urosevich – girl power!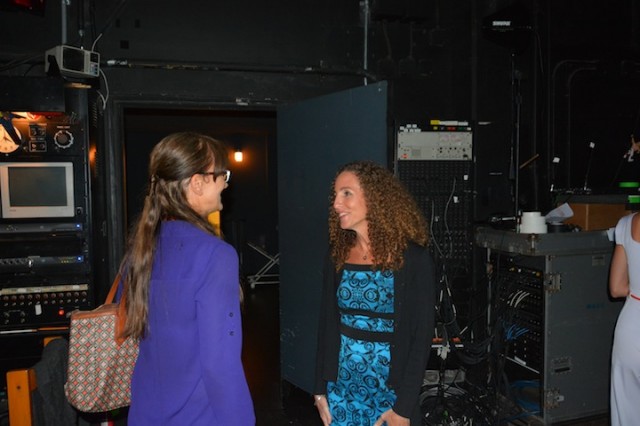 Dr. Kerrie Urosevich and Dr. Edward Readicker-Henderson chatting backstage.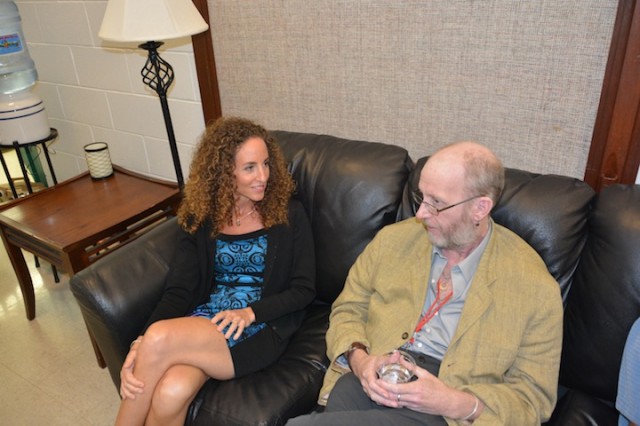 One of our co-hosts, Kainoa Horcajo, chatting with audience members.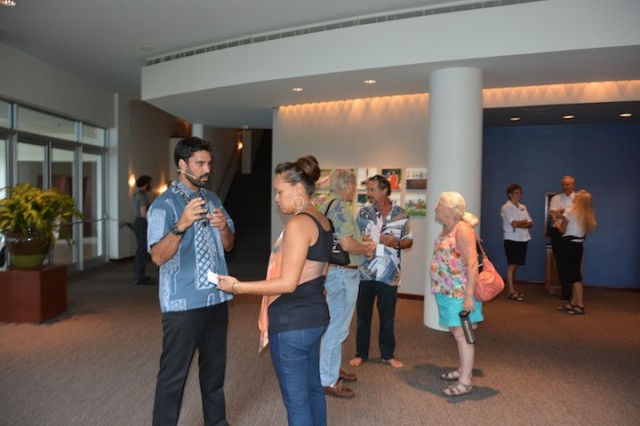 Daedelus chatting with audience members in the lobby.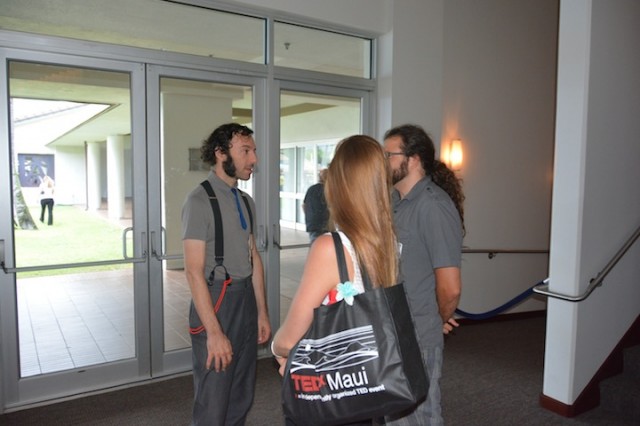 Dr. Kerrie Urosevich, Dr. Edward Readicker-Henderson and Dave Kalama backstage.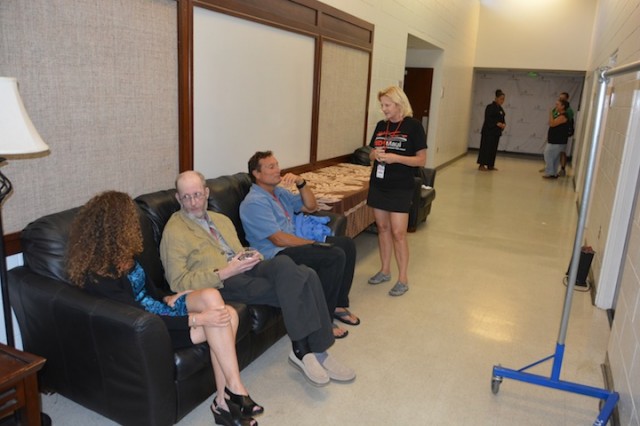 Maya chatting with our crew backstage.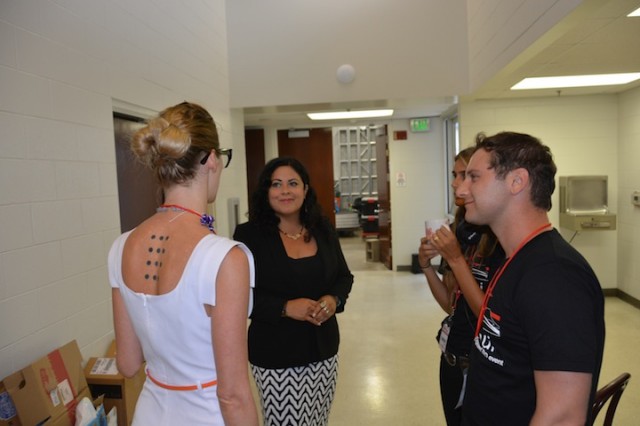 Dave Kalama chatting with our crew backstage.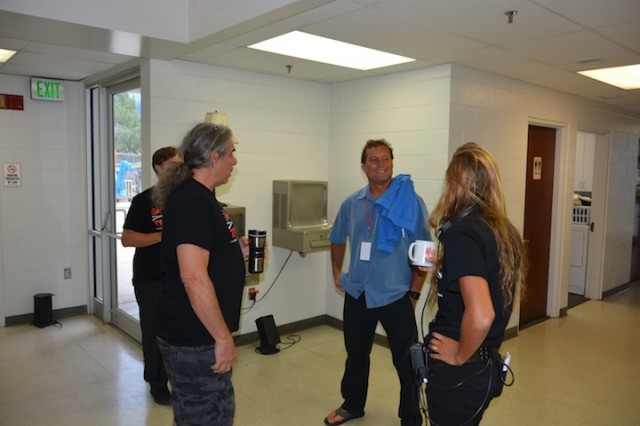 3:45pm
We just went on break and I found a few more photos from lunch! Maya Soetoro-Ng chatting and laughing with students and Kimi Werner talking to a UH West Oahu student (who said Kimi was her favorite speaker).
3:20pm
Hinaleimoana Wong-Kalu (Kumu Hina)…
Favorite quotes:
"When we know where we come from, we shall know where we go."
"Our ancestry never changes. Go out and find out, search the path from where you come."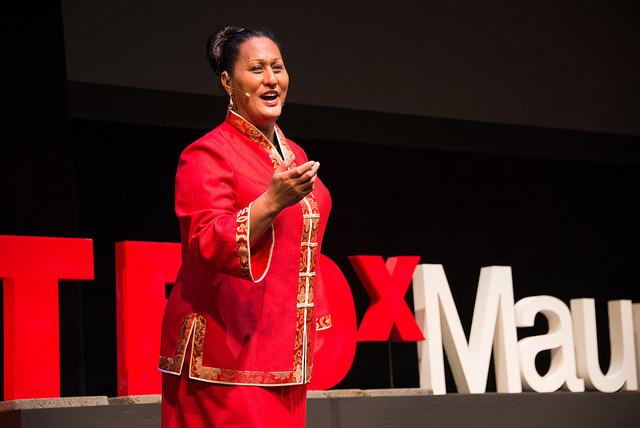 3:10pm
Maya Soetoro-Ng getting her make-up touched up while her fellow presenter Kerrie Urosevich chats with new friends.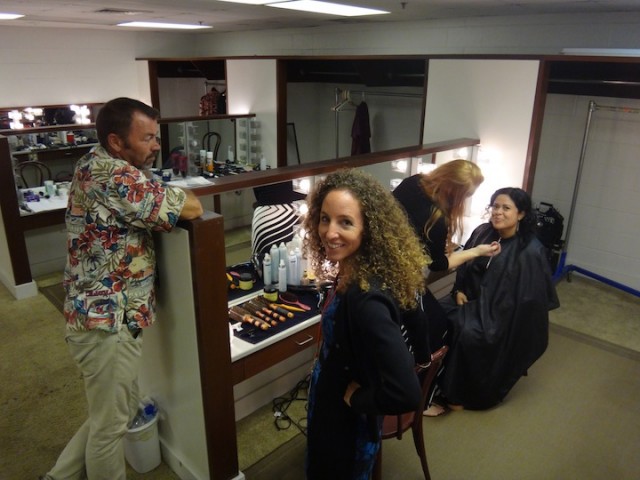 3:00pm
Dr. Bradley Wilcox, MD…
Favorite quotes:
"The challenge with aging is we don't know much about it."
"Aging is not for sissies."
"Mild stress to the body (like exercise) is good for aging well."
"Eating fewer calories puts a mild stress on the body."
"If you live to be 107, you can eat all the cake you want."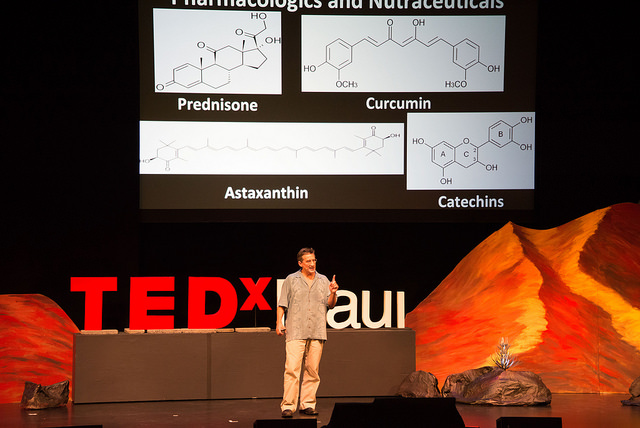 2:33pm
18-year-old Rosemary Kulhavy-Sutherland just brought the house down with her eloquent speech about being less than perfect while demonstrating close to perfect speech-giving skills!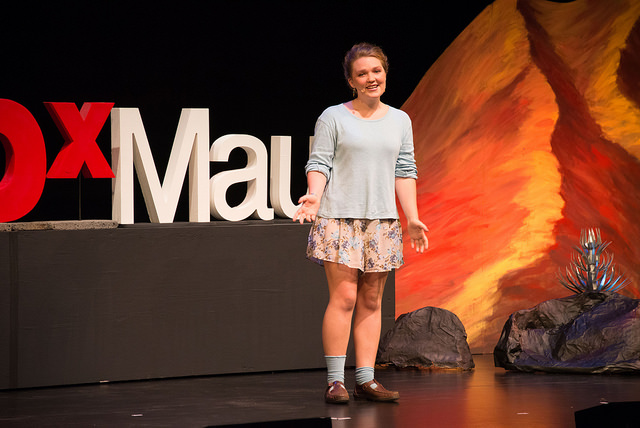 2:30pm – What a great turnout!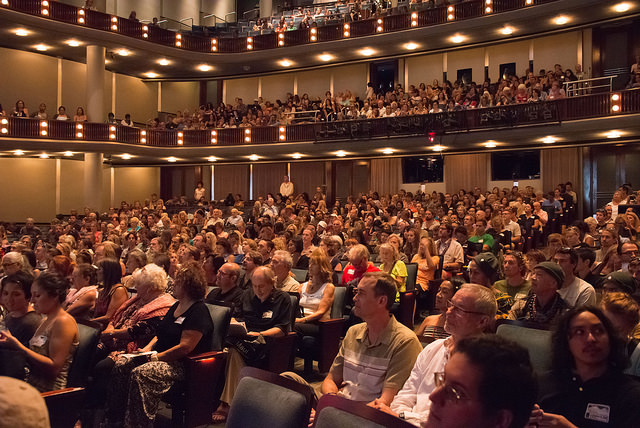 2:15pm
Taimane is killing it on stage right now! See the live feed HERE!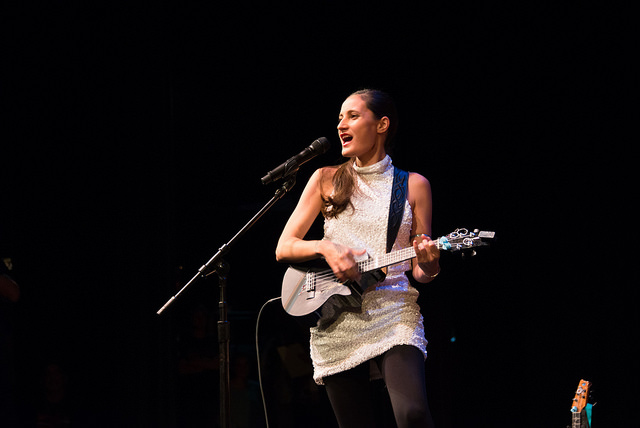 2:00pm
Students from Maui High, Baldwin, King Kekaulike, Lahainaluna and the university/college were selected to attend the TEDxMaui event. The tickets were donated by Old Lahaina Luau and students were selected by their individual schools. Maui High students had to write an essay to be considered for the tickets. At lunch the students got to eat and chat with the speakers.
Some behind the scenes shots… Jessica Pearl our photographer got a bunch of great shots at lunch.
1:40pm
Two of our speakers, Sam 'Ohu Gon III and Robert Cazimero at lunch.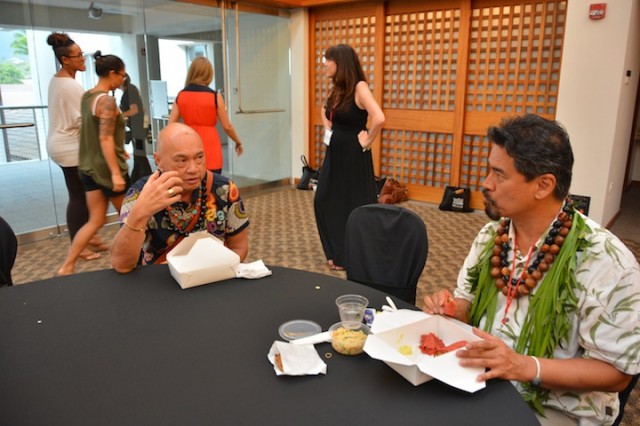 Daedelus talking with student Leah from UH West Oahu. His name "Daedelus" comes from Greek mythology. When he was a kid he really wanted to be an inventor and Daedelus in Greek mythology is an inventor. He said the experience on stage was like nothing he'd ever done because he's used to either speaking to other musicians or playing music for people that are dancing so he wasn't sure how people would react. PS – He got a standing ovation.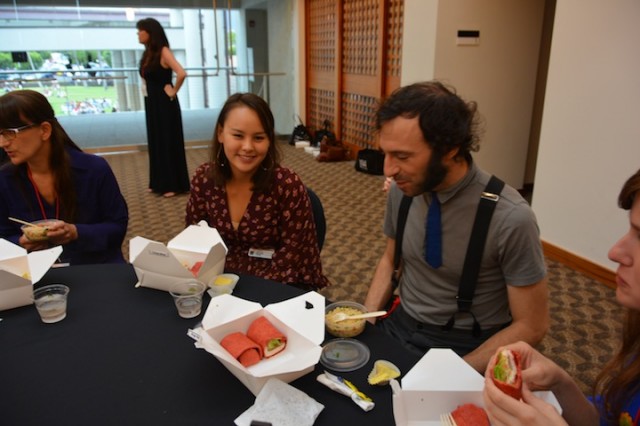 Dr. BJ Fogg speaking with high school students and sharing his mana'o.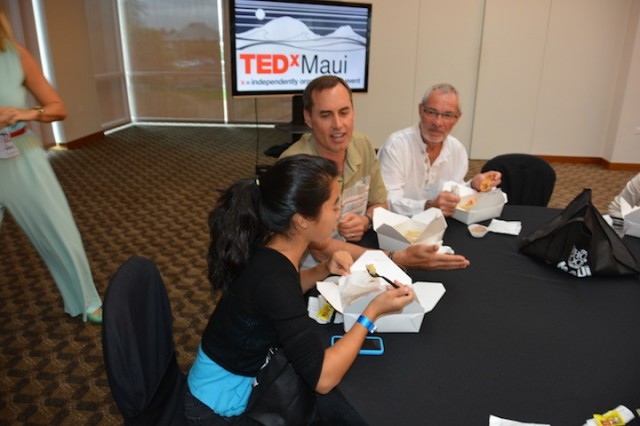 Dr. Edward Readicker-Henderson and Dr. Bradley Willcox lunching with high school students. 
The students being recognized in the lunchroom.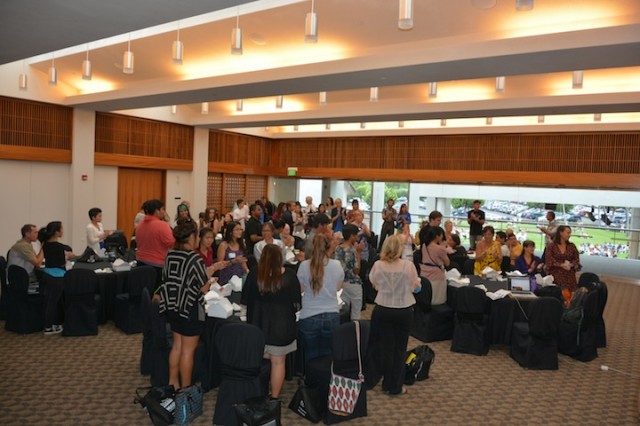 1:15pm
Dr. BJ Fogg and Dr. Sam 'Ohu Gon III, also speakers from this morning, chatting as they wait in line for lunch.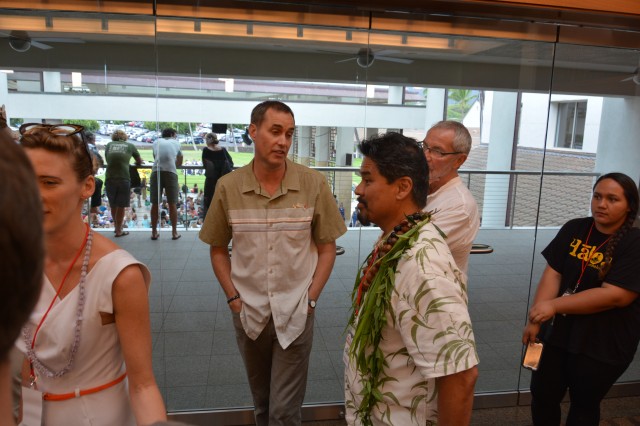 12:45pm
Edward Readicker-Henderson "Kill Your Bucket List"
Favorite quotes:
"What if instead of thinking I had to do something before I die, what if I just did something because I'm alive."
"The first time I was told I had only one year left to live – was 15 years ago."
"As best I can tell, dying sucks. Dying makes you see pain in the faces of the people you love and you can't save them from the pain. Dying is absolutely nothing to live for."
"It sounded like the world saying, let's go out and play." <in regards to the sounds he heard in the crater at Haleakala>
"If you just live because you're alive… then you're in the river of time."
"When you reach the edge, you don't care that you ran with the bulls or swam with sharks. You care that you said I love you. You care that you said thank you more than you said please."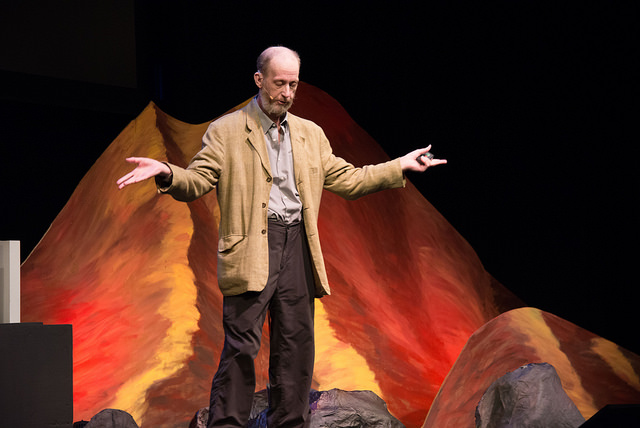 12:35pm
Rick Rutiz is on stage. He's the founder and director of Ma Ka Hana Ka 'Ike, "in working one learns." 
Favorite quotes:
"Give kids skills, success and value and we will see change."
"Their kokua didn't just change the life of a family, but of a community."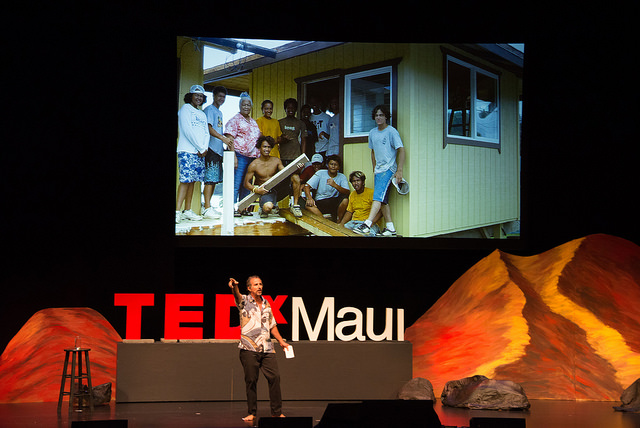 12:30pm
One of our co-hosts, Lia Krieg, backstage writing her transitions.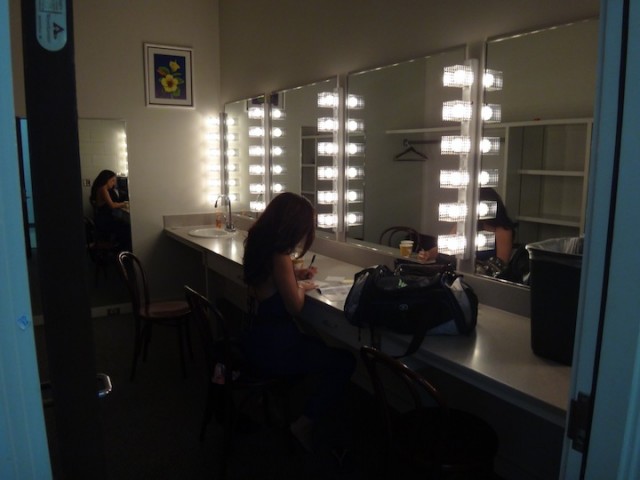 12:25pm
Daedelus "Wonderment: Perceptions of Performance" – this Maui audience is LOVING our speakers! Everyone has been getting an amazing welcome plus standing ovations and great big hearty applause at the conclusion of their talks!
Favorite quote:
"Your senses are half truths and your experience is the whole truth."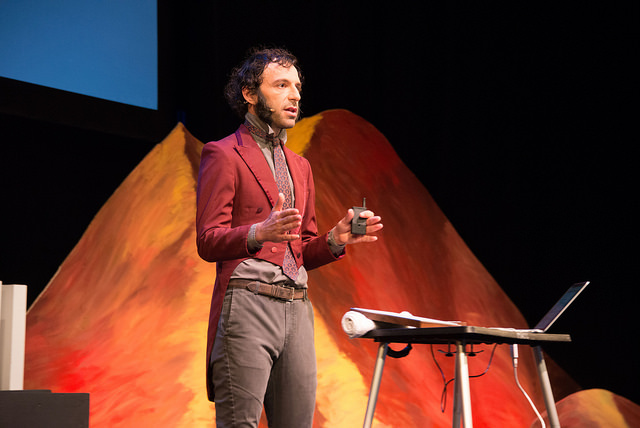 12:24pm
Here's a gem from earlier this morning in the make-up/hair room. Daniel Anthony and Dr. Sam 'Ohu Gon III!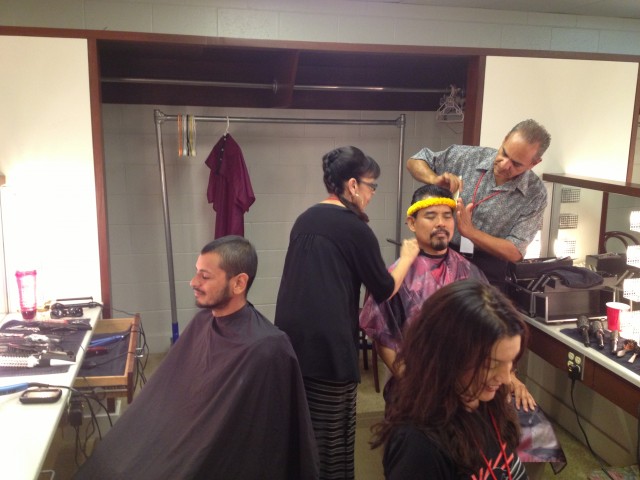 12:20pm
Full house!!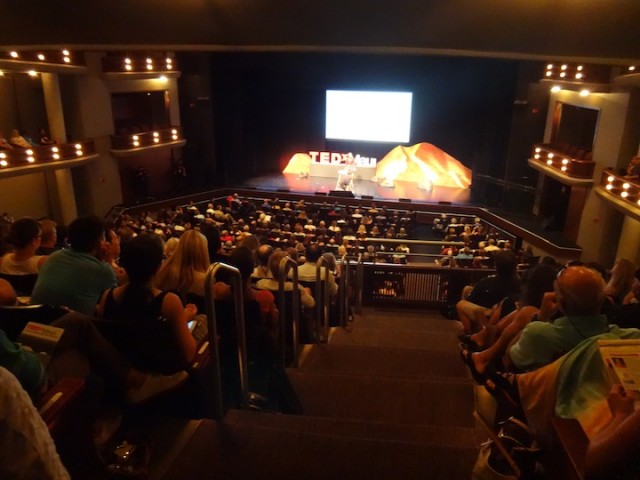 12:10pm
Dr. Svetlana Berdyugina was visibly still pumped with adrenaline backstage after her talk. She's adorable. She was kicking her legs out and doing breathing exercises to calm herself down (as you see in this photo). She is looking forward to experiencing the rest of the TEDxMaui talks from the audience with her daughter.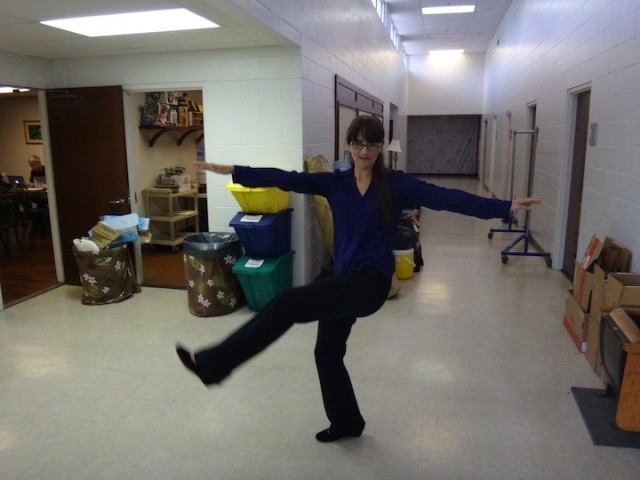 11:45am
Astrophysicist Dr. Svetlana Berdyugina is on stage…
Favorite quotes:
"There is more out there than we can ever imagine." <In regards to extraterrestrial life>
"If you stumble across something positive and no one cares about it, go for it."
"Think about finding a diamond in the sand. It's impossible. Finding life in the universe would be harder."
"We want to find civilizations but not be detected by them."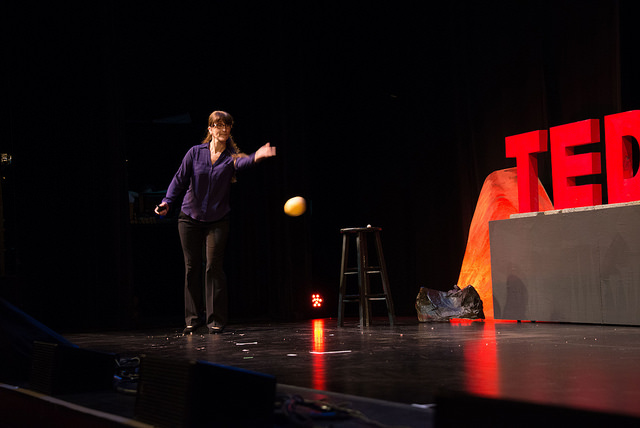 11:30am
Standing ovation for Daniel Anthony…
Favorite quote:
At the age of 6 months my daughter looked into my soul and said "I will never do what you say, I will only do what you do." ~Daniel Anthony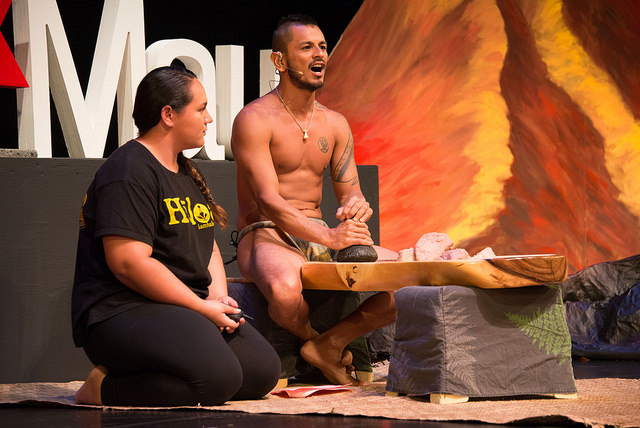 11:15am
Two of our speakers – Hinaleimoana Wong-Kalu & Robert Cazimero – checking out their swag bags in the green room. They quickly rushed out as Lia and Kainoa came back out – Daniel Anthony is taking the stage! It's awesome to see that all of our speakers are so interested in hearing their counterparts speak as well.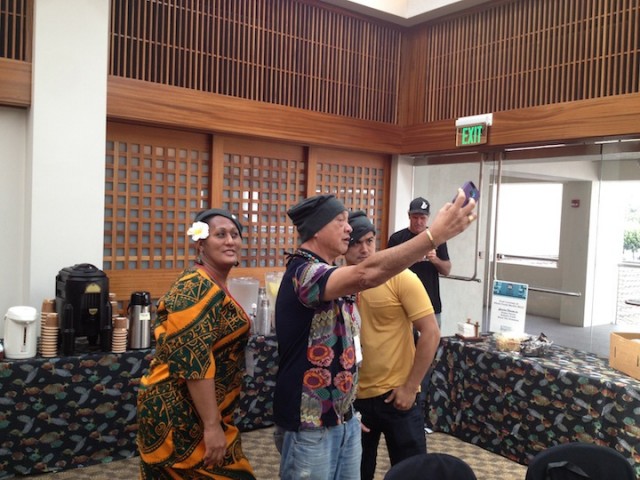 11:10am
Daniel Anthony getting his microphone and getting ready to take the stage. Daniel looks very handsome in his traditional malo but I'm wondering where they put the microphone?! 😉 As we left the stage area Maya Soetoro-Ng and Kerrie Urosevich were hurrying out to their house seats so that they wouldn't miss Daniel's speech.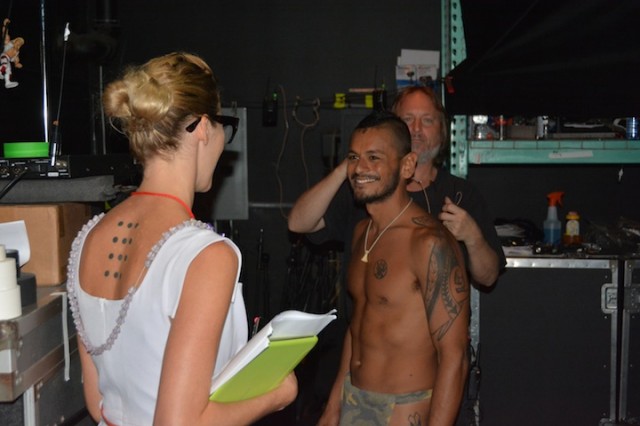 11:05am
Maya Soetoro-Ng is walking around backstage and I went over to say hi. She is soooooooooooo nice. Seriously the nicest person ever. She said "Sometimes I don't know who I know or I don't know so I just call everyone honey" – and she gives great hugs! ha ha! I think I got three of them! She then literally grabbed me and said let's get a close up photo and then made sure that we were "cute" in it. Later today she will be speaking along with Dr. Kerrie Urosevich – who is equally charming and sweet. The two of them have a special friendship that's very apparent when you meet them and see them interact. Can't wait to see their talk!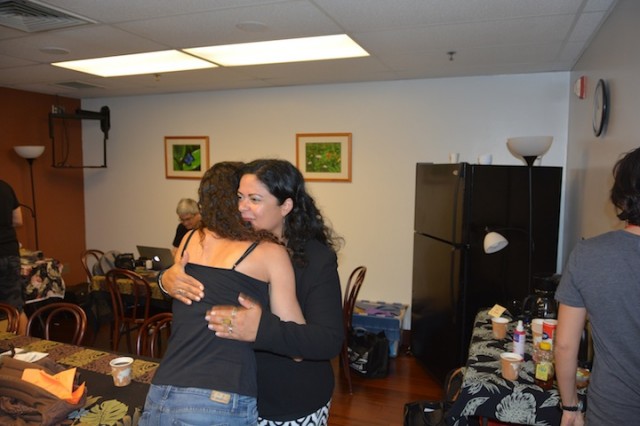 11:00am
Kimi Werner backstage talking to crew about spearfishing. She told me that this TEDxMaui talk is the largest audience she's ever had and only the second time she's given a big talk. She said she felt the love as she got out on stage but didn't notice that she was emotional at all even though everyone has been approaching her saying "You were so emotional!" I guess she was totally immersed in the moment.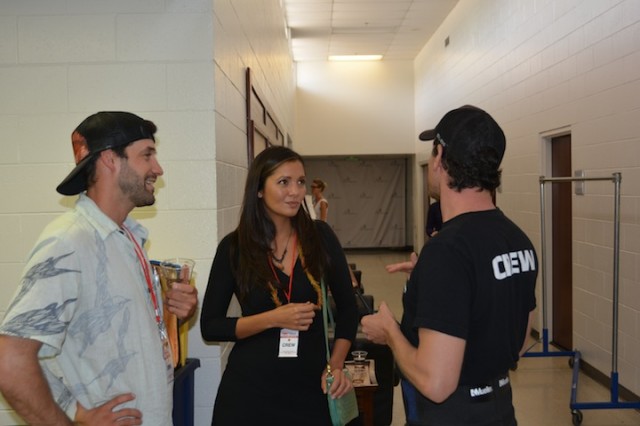 10:45am
Adaptations Dance Theater takes the stage
10:25am
Dr. Sam 'Ohu Gon III just left the stage.
He said 38 different life zones exist on earth – Holdridge Lifezones –  27 are found in Hawaii. Brazil, in comparison, with all of its size, only has 17 different life zones.
Mind-blowing statistics he shared: 15% pre western contact footprint, 70%+ footprint now
100% food self-sufficiency prior to western contact, 15% today with only 3 weeks before famine sets in if we get cut off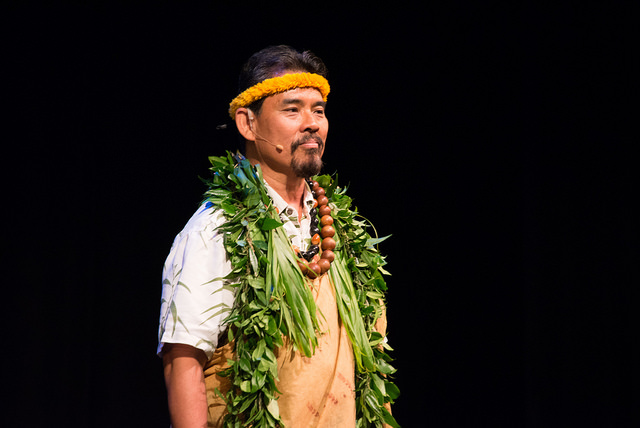 10:20am
Adaptations Dance Theater practices backstage in the dressing room. Stay tuned for their amazing performance! Several people I spoke to said the rehearsal was amazing yesterday.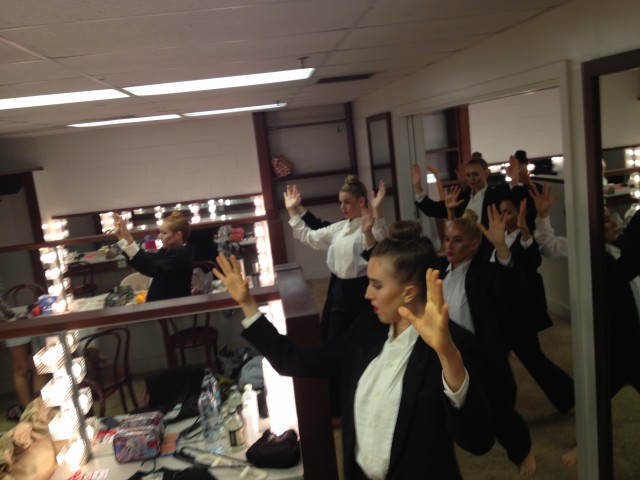 10:15am
Daniel Anthony is in the green room looking over his notes! He did his homework! Daniel's speech is entitled "What You Put in Your Mouth Can Change the World."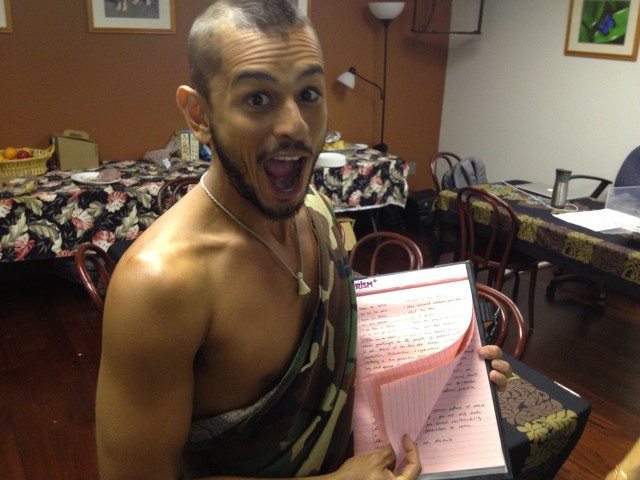 10:07am
Dr. Sam 'Ohu Gon was recently given the "Living Treasure" award. Here is waiting backstage to go on!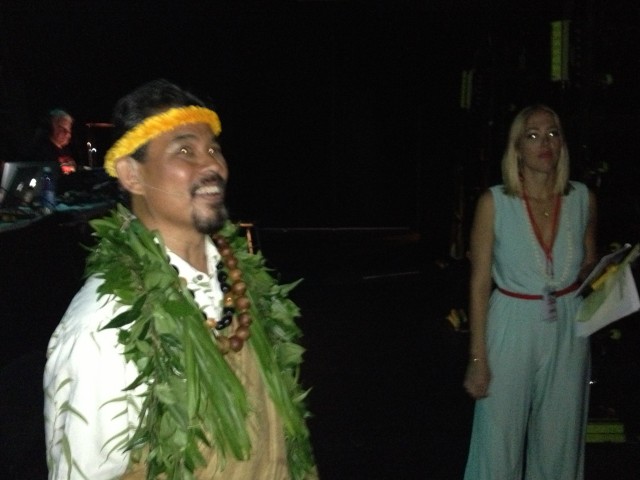 10:00am
Dr. BJ Fogg is the next speaker. He directs the Behavior Design Lab at Stanford University. He's been studying human behavior for 20 years. (Photo: Taimane Gardner watching Dr. Fogg's speech in the green room)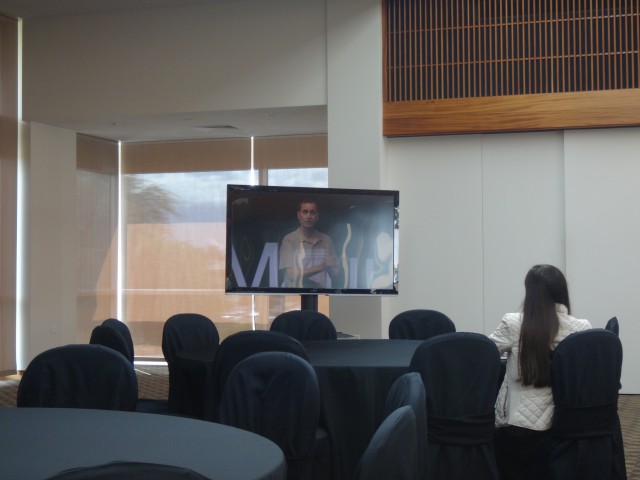 Favorite quotes:
"When it comes to longterm behavior change, simplicity is the most important factor."
"It's gonna be a great day." BJ says he wakes up in the morning and says it out loud. It's his favorite "tiny habit." He calls it the "Maui Habit."
He says to watch for 3 things as you practice this habit every day when you wake up in the morning:
Watch how quickly this becomes automatic in your life.
Watch for how the "Maui Habit" leads to you doing other good things.
Watch for how your behavior works. How can I apply this in other ways by practicing this habit?
Tips for practicing behavior in the right way.
1. Focus on behaviors you want.
2. If you want a habit to really stick do it in the MORNING – It's easy to do and it makes you feel good.
3. It's a design challenge, not a motivation challenge – adapt your habit in order to maintain it.
9:30am
My favorite quotes from expert free diver, Kimi Werner – our first speaker.
"When you feel the need to speed up, slow down."
"What started out being one of the scariest moments of my life ended up being the most beautiful." (When talking about her encounter with a great white shark)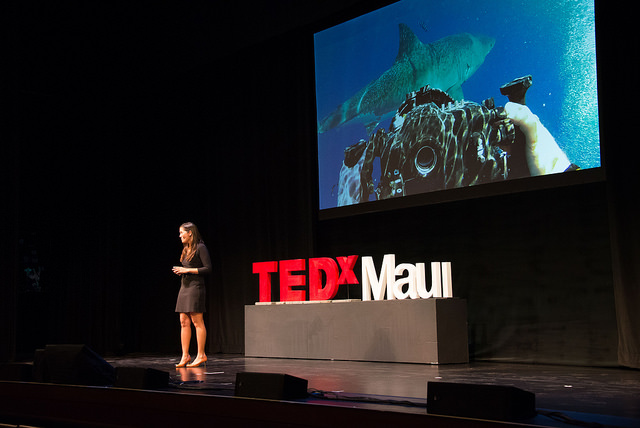 Kimi got a standing ovation for her speech from the audience. Maui is so proud of her!
9:13am
Kainoa Horcajo and Lia Krieg take the stage to host TEDxMaui.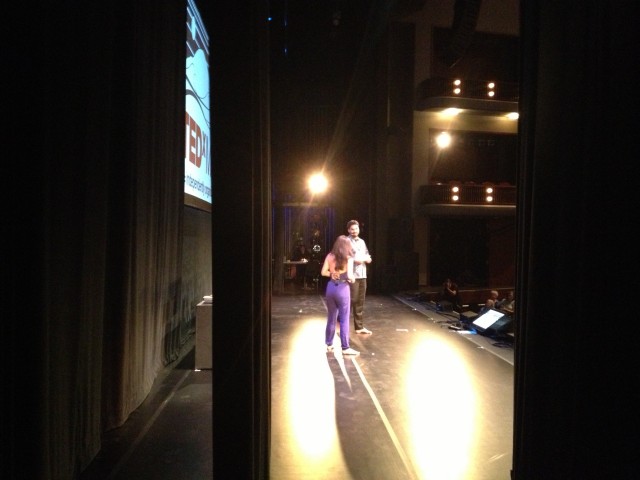 9:07am
Taimane Gardner will be performing at TEDxMaui – her set is only 10 minutes long so either get down here or make sure to keep watching the live feed! Here she is checking out the program. She said she's super excited about Sunny Savage "You Can Eat That: The Gift of Wild Foods" – Dr. Bradley Wilcox "The Quest For Eternal Youth" about who lives the longest and why – Edward Readicker-Henderson "Kill Your Bucket List" and she can't wait to see the Adaptions Dance Theater take the stage. PS I've heard from MANY people that it is a MUST SEE!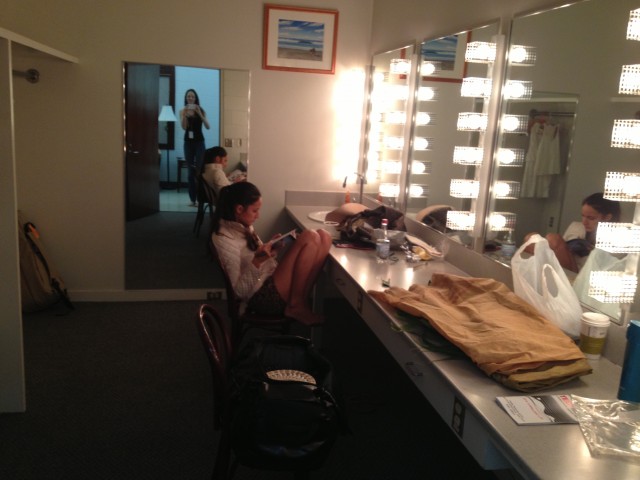 9:00am
Sooo I love Hawaii. Here I am working behind the scenes at TEDxMaui for the first time and I run into my friend Katie McMillan (she used to live with my best friend in Haiku many years ago)… I had NO IDEA she is the founder of TEDxMaui!! Such a small world! First of all, she's an amazing woman – stunning inside and out. Katie really wanted to go to TED Women in 2010 but she didn't have the funds to make the trip. Her friends decided to fundraise for her so she could have the opportunity. Katie says she was pretty embarrassed. "There are so many other problems in the world. Me going to TED was so small in comparison," she said. Her friends threw her a party and through word of mouth enough money was raised for Katie to attend the TED Women event. The entire time she was there she kept thinking "How am I going to give back?" Elizabeth Lindsey – filmmaker, cultural anthropologist, polynesian explorer and former Miss Hawaii – took the stage and that's when the lightbulb went on for Katie… she said it just clicked "We live in such an amazing place," she thought. TEDxMaui was conceived but Katie needed help. She had tons of ideas and needed someone with a production background to get the conversation started and help to put the event together. Enter Sara Tekula – producer for TEDxMaui – the two had their first meeting at Baldwin Beach. They decided to go big and do the production in the Castle Theater at the Maui Arts & Cultural Center. TEDxMaui had it's first event in 2012 and has grown ever since.
Here's a photo of Katie and Kainoa Horcajo (the emcee) in the green room today.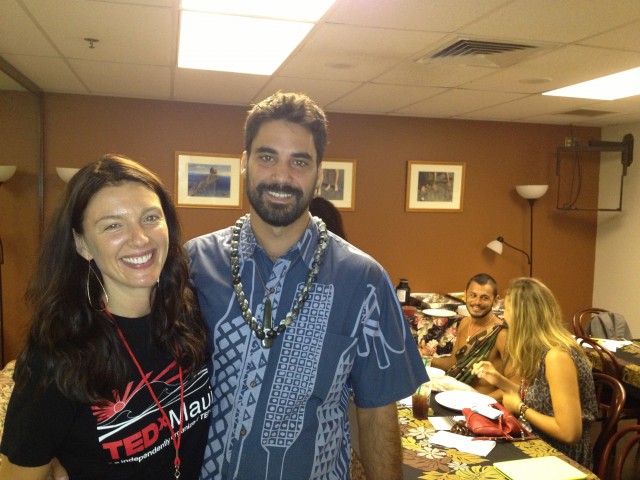 8:30am
People are lining up around the corner to get in! Still a half hour before we open our doors! Maui Taiko just performed! Here's Robert Cazimero – who is performing and speaking today – taking photos of Maui Taiko performing out front. He actually did a little jig too 🙂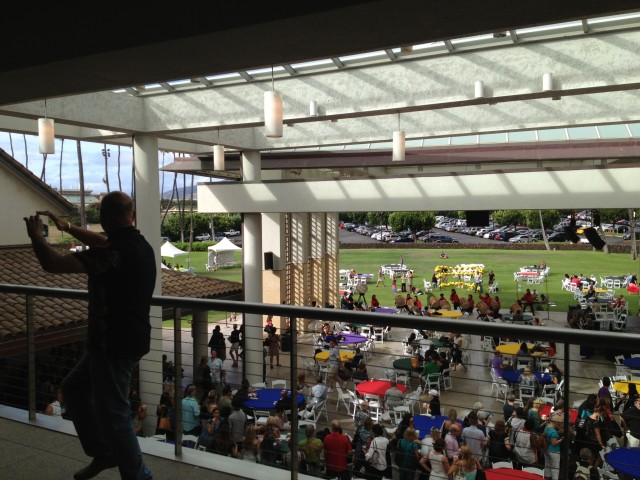 8:00am
The now iconic red TEDx letters grace our stage here at TEDxMaui… but I bet you didn't know that our letters were cut and carved out of reclaimed wood <Norfolk Pine from Kihei> by our very own schmuck (his words, not mine) Tim Garcia!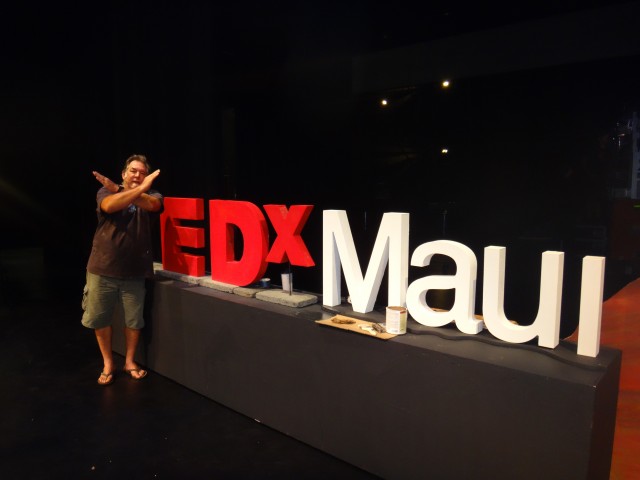 All laughter aside, Tim and Kaleo Padilla are the set designers for TEDxMaui and they put a lot of hard work, long hours and love into the set design this year. I won't give away the surprise but something very special will happen on stage as far as set design goes. Keep your eyes peeled! Another SUPER cool tidbit – every TEDxMaui speaker that has ever graced the stage has signed the back of our letters so the mana of our past speakers is on stage with our current speakers – most of which are first time TEDx speakers this year!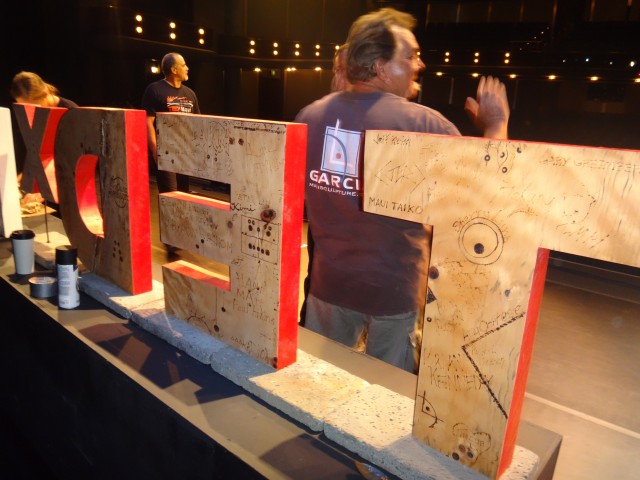 9/28/2014  – 7:45am
Malika Dudley here! I'll be your live blogger for the day! I'm so excited for my first year as a part of the TEDxMaui team. Can't wait to be inspired! If you're thinking about coming but haven't decided yet… please come down! <The box office is already open out front for last minute ticket sales> Our speakers this year are phenomenal… I haven't seen any… YET, but they will start to filter in soon and I'll keep you up to date. For those of you that are planning on being here – Awesome. Front of house will be a great experience and I can supplement that with my backstage observations. 😉 I'm excited to be going on this journey with all of you today! Aloha!